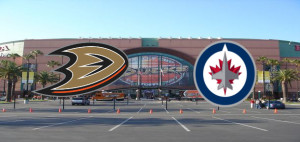 We already know that Connor Hellebucyk will get the start in net for Winnipeg, that Tobias Enstrom is probable and Dmitry Kulikov is possible although the team has also recalled Tucker Poolman from the Moose for added insurance while placing Shawn Matthias on IR retroactive to January 12th.  This is the final road game for the Jets as they get set for their All-Star break which begins on Friday and they are looking for their fourth straight victory since they took off five-days last week.  After tonight's road game they will play ten straight home games at Bell MTS Place.
The Jets depth has been tested this season and impressively without their top line centre Mark Scheifele have gone 8-2-1 since he was lost to injury back on December 27th and then 11 days later they lost their third line centre Adam Lowry and went 4-2 in the six games he has missed.  While neither of these two will be back tonight we will have to wait and see if Dmitry Kulikov is ready to go when the Jets take the ice for morning skate at 1:30 am PST.  If not, the expectation is that Ben Chiarot will step in for him.
Morning skate notes:
Ted Wyman of the Winnipeg Sun indicated it is an optional for the Jets so we won't have confirmation of the D pairs until the coach speaks following skate at Honda Center.
Jets lines, D pairs and goalies:
Laine – Wheeler – Roslovic
Perreault- Little – Ehlers
Tanev – Copp – Armia
Connor – Hendricks – Dano
Morrissey – Trouba
Chiarot – Myers
Enstrom – Byfuglien
Hellebuyck
Hutchinson
Extras:  Lemieux, Poolman
Injured:  Lowry, Kulikov, Matthias, Scheifele, Mason
Health Update:
After Dmitry Kulikov left the game against the Sharks on Tuesday there was some thought that he could play today in Anaheim with his coach using the term 'possible' on Wednesday.  Following today's morning skate coach Maurice ruled Kulikov out of tonight's game against the Ducks and when asked if there was any setback he added "No, no.  He got injured.  We'd see how he felt the next day.  It was alright, but not great and it didn't improve.".  When asked if he was optimistic that Kulikov would be good to go after the All-Star break the bench boss said "I don't have an answer for you on that.".  Pressed about whether Kulikov had potentially suffered a concussion Maurice indicated "No, not with him yet.  It hasn't been, for me, called that yet.  He has to get tested and he has to wait a couple days to see where the symptoms are at beforehand.  But whenever we've had a player that has had a concussion I've fired that out."
Audio:
Patrik Laine
Matt Hendricks
Josh Morrissey
Coach Maurice:  Status of Enstrom/Kulikov?  Does Chiarot draw in?  Thoughts on the Ducks?  On what Henrique has done for Anaheim at centre?  On the Ducks using Corey Perry on the 4th line.  How has Chiarot handled his seventh defenceman role?  More on Kulikov.  Any forward changes?  Was he surprised by Armia's two goals last game?  On the leap that Hellebuyck has made this season.  On who Chiarot will be paired with.
Audio courtesy of TSN 1290 Winnipeg.
Ducks lines, D pairs and goalies:
Rakell-Getzlaf-Kase
Cogliano-Kesler-Brown
Ritchie-Henrique-Silfverberg
Wagner-Vermette-Perry
Fowler-Bieksa
Lindholm-Manson
Beauchemin-Montour
Gibson
Miller
The Anaheim lines, D pairs and starting goalie come via Brian Munz of TSN 1290 Winnipeg.