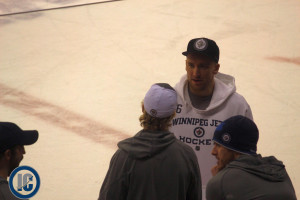 The Jets didn't have a skate this morning having played last night.  Assuming lines don't change here are your projected lines and D pairs.  Amazingly, Dustin Byfuglien is a player, as coach Maurice indicated this morning that 33 is in tonight despite the 3rd period injury he sustained last night against the Predators.
Update:  Drew Stafford was a late scratch from tonight's game as announced by Dennis Beyak of TSN.  Anthony Peluso draws back into the lineup.  Here are the projected lines:
JETS
Ladd-Little-Wheeler
Armia-Perreault-Ehlers
Thorburn-Burmistrov-Halischuk
Pardy-Copp-Peluso
Enstrom-Myers
Trouba-Byfuglien
Stuart-Chiarot
Hellebuyck
Hutchinson
*Coach Maurice wouldn't indicate who his starting goalie is today during his availability aside from saying he would be starting one of the two.
** Jeff Hamilton of the Winnipeg Free Press says Hellebuyck will get the start.
WILD
Zucker-Koivu-Coyle
Parise-Granlund-Pominville
Vanek-Haula-Niederreiter
Porter-Stoll-Fontaine
Suter-Spurgeon
Brodin-Dumba
Scandella-Prosser
Dubnyk
Minnesota Lines come from the Wild game preview.