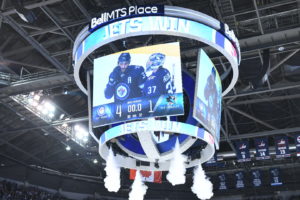 The Jets are now 25-11-7 after 43 games on the season and sit 1st in the central division.
For those who would like to take a deeper dive into the advanced stats here are the results from tonight's game via Natural Stat Trick.
Notable:
– Matt Hendricks fought and scored a highlight reel goal in the 1st, his fourth of the season;
– Mathieu Perreault had two goals (11, 12);
– Andrew Copp finished with two assists;
– Tyler Myers finished with two assists;
–  Jack Roslovic made his season debut and looked excellent in his 7:57 minutes of icetime;
– Connor Hellebuyck is 23-4-0-6 on the season.
Health Update:
Coach Maurice indicated that Adam Lowry is day-to-day with an upper-body injury and that he may play in Buffalo on Tuesday.
Jets audio:
Jack Roslovic
Andrew Copp
Mathieu Perreault
Matt Hendricks
Coach Maurice:  Status of Adam Lowry.  Moving Andrew Copp to centre.  Impact of Matt Hendricks in the 1st period.  What he saw from Jack Roslovic to merit more ice time in the 3rd period.  Temptation to keep Roslovic in even when Lowry comes back.  On what it has meant to be playing so well at home.  Two effective power play units.  More on the Jets power play.  On Copp's role.  On the Jets play ramping up post New Year.  Thoughts on Tobias Enstrom's game.
Sharks audio:
Logan Couture
Joe Pavelski
Coach DeBoer