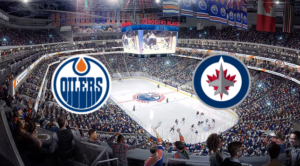 It will be another young crew tonight in Edmonton as the youngsters get one last chance to impress the coaching staff before cuts are made tomorrow.  According to Brian Munz of the TSN 1290 Winnipeg it will look like this:
Matthias-Lowry-Copp
Connor-Roslovic-Petan
Lemieux-Sgarbossa-Lipon
De Leo-Spacek-Tanev
Kulikov-Byfuglien
Morrissey-Poolman
Melchiori-Chiarot
Hutchinson
Comrie
Audio:
Coach Maurice: What is he expecting tonight.  Will there be more space than there was in St. Paul?  Hitting midway point, some guys last chances to make an impression.  On some players getting new looks at this camp.  How much attention does he play to the AHL club and the culture?  Does he like the number of pre-season games?  On Lemieux getting away from his game between games 1 and 2.
All audio courtesy of TSN 1290 Winnipeg.