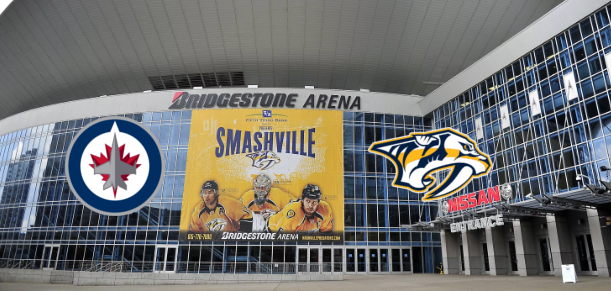 The Jets come into today's game having won the first couple of games in Florida on this four-game road trip.  Game three will see them take on a Predators team in Nashville that has lost their last two games.  It will be a big central division battle as Winnipeg looks to maintain a points separation between them and their rival from down south.
It will be an optional morning skate so we will have to wait and see if there are any changes to the lineup.
Jets projected lines and D pairs:
Connor-Scheifele-Laine
Ehlers-Wheeler-Roslovic
Copp-Lowry-Perreault
Luoto-Gustafsson-Shaw
Morrissey-Poolman
Kulikov-Pionk
Beaulieu-Sbisa
Hellebuyck
Brossoit
Audio:
Mathieu Perreault
Coach Maurice:  Any lineup changes?  How dangerous are the Preds based on what they've been going through of late?  How did the dynamic change with the addition of Duchene?  His thoughts on Mathieu Perreault playing in NHL game 600 tonight.  Did he feel like when Perreault was on the 4th line he was being "wasted"?  On Perreault being a mentor.  Why has he been so much more effective on the wing?  On the improvement of the PK.  More on Beaulieu-Sbisa.
All audio courtesy of TSN 1290 Winnipeg.
Milestone:
Mathieu Perreault is set to play in his 600th NHL game.  He had quite a bit to say as he reflected on his career today in Nashville including his statement that signing with the Jets was the "best decision I ever made for my career".
Up Next:
Puck drop is at 7:00 pm CST.  Be sure to head over to illegalcurve.com following the game for a recap of the action which includes post-game audio from the Jets room as well as from Coach Maurice.