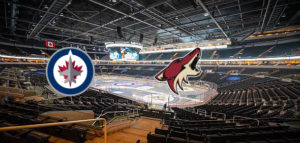 The Jets first game back at Bell MTS Place will be tonight's second half of the home and home against the Coyotes as the Jets 2.0 look for another victory against the Jets 1.0.  It will be a special night in downtown Winnipeg as the team will honour Dale Hawerchuk with a pre-game ceremony as they induct him into their Hall of Fame.
One thing worth keeping an eye on is the status of Shawn Matthias who took a shot during yesterday's practice.  Coach Maurice indicated the assignment of Brendan Lemieux could be "short term" if #16 isn't ready to go.
Morning skate notes:
As per NHL.com correspondent Scott Billeck the Jets are having an optional skate this morning.  Coach Maurice seems to have moved towards these on game days.  Jamie Thomas of Jets TV indicated that Shawn Matthias is out skating this morning.  The lines and D pairs listed below are based on yesterday's skate.  Will update if there are any changes announced by the Jets bench boss when he speaks following skate.  He confirmed yesterday that Connor Hellebuyck gets the start tonight.  Update:  Coach Maurice indicated that there will be no lineup changes tonight.
Projected Jets lines, D Pairs & starting goalie:
Connor-Scheifele-Wheeler
Ehlers-Little-Laine
Copp-Lowry-Tanev
Matthias-Hendricks-Armia
Morrissey-Trouba
Enstrom-Byfuglien
Kulikov-Myers
Hellebuyck
Mason
Extras:  Perreault, Dano and Chiarot.
Audio:
Coach Maurice:  Any lineup changes?  Is there a different mindset in the room sitting 2nd in the central as opposed to when you are chasing?  Where is his level of concern with a "let down" game against the Coyotes?  On the maturity of the team.  Has he seen anything different in Laine's last five games?
Audio courtesy of TSN 1290 Winnipeg.