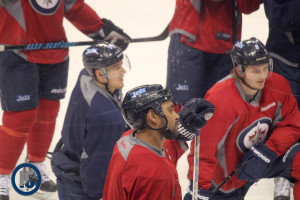 The Jets didn't skate yesterday and coach Maurice wouldn't reveal what his lineup would be for tonight's game in Arizona (i.e.  whether Jacob Trouba was gonna be in the lineup).
Via Ken Wiebe of the Winnipeg Sun who is at the morning skate we learn that coach Maurice is using these lines, D pairs and likely starting goalie this morning:
Ehlers-Scheifele-Laine
Connor-Petan-Wheeler
Copp-Lowry-Tanev
Dano-Burmistrov-Thorburn
Morrissey-Byfuglien
Enstrom-Myers
Chiarot-Postma
Hellebuyck
Hutchinson
Player audio:
Nikolaj Ehlers:  On playing with Scheifele and Laine.  Does it feel like they can create every shift?  Bringing momentum from the Dallas game?  What is he expecting from the Coyotes?
Brandon Tanev:  What is comfort level like right now?  Is this dressing room getting closer?  Expectations for the Coyotes?  What is working well for his line?
Coach audio:
Paul Maurice:  What can they bring from their last game into this road trip?  Going with same lineup.  What are the keys in game one of the back to back?  What goes into the decision to get Jacob Trouba into a game?  Does the back-to-back factor in?  What has he noticed about Nic Petan finding his way in the top 6 role?  Petan benefiting from playing centre vs. winger.  The roll that Hellebuyck is currently on.  Hellebuyck's ability to handle a big work load.  The teenagers having a seamless transition into today's NHL.  Is the development process sped up?
Audio courtesy of TSN 1290 Winnipeg.
Via Brian Munz of TSN 1290 Winnipeg we get a glance at the projected Coyotes lines, D pairs and starting goalie:
McGinn-Martinook-Vrbata
Rieder-Richardson-Doan
Domi-Dvorak-Duclair
Crouse-Dauphin-White
Chychrun-Schenn
Ekman Larsson-Murphy
Goligoski-DeAngelo
Domingue
Peters
Coach audio:
Dave Tippett:  His thoughts on the Jets team.  What did he notice about Laine at the World Cup that doesn't surprise him about what the rookie is doing now at the NHL level?  Trying to defend Laine's shot.  The teenagers having a seamless transition into today's NHL.  Last six games has there been anything specific that he has noticed change with his group?  What did he see from Scheifele from when he coached him to where he is at now?  Status of Mike Smith?