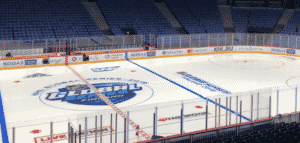 The Jets reversed starts from yesterday opening the game with a 5-0 shot advantage over the Panthers to open the game.  Two Brendan Lemieux penalties (including a major) ultimately turned this game in the middle frame with Florida capitalizing on both of those chances to take a 3-2 lead into the final frame.  The Jets couldn't get the equalizer, Panthers added a late goal and the Jets end up with a split of the Global Series. Winnipeg falls to 8-5-1 on the season.
For those who would like to take a deeper dive into the advanced stats here are the results from tonight's game via Natural Stat Trick.
Notable:
– Nikolaj Ehlers opened the scoring picking up his own rebound after his wheels gave him the initial chance;
– Blake Wheeler is on an eight-game point streak (1G 10A);
– Patrik Laine scored his fourth goal in the last two games;
– Dustin Byfuglien became the career points leader outside North America with 7;
– 10th consecutive game with a power play goal (team record);
– Jets gave up three power play goals (2nd time this season.  Stars also scored three on the PP);
– One penalty Lemieux took earned him a major and likely a call from Department of Player Safety.
– Blake Wheeler had 2 assists (he is up to 14 on the season which is 2nd best in NHL);
– Six of Patrik Laine's seven goals this season have come on the power play.
Audio:
Patirk Laine & Aleksander Barkov
Nikolaj Ehlers
Connor Hellebuyck
Coach Maurice:  His initial reaction to the hit by Lemieux on Trochek.  Was it a turning point?  His overall thoughts on the game.  On the experience in Finland.  Does he see these two games as a turning point for Patrik Laine's season?  Is it a fresh start when they get back to Winnipeg?  On minimizing the stick penalties.
All audio courtesy of TSN 1290 Winnipeg.
Coach Maurice's comments in response to questions on Lemieux:
His initial reaction to the hit by Lemieux on Trochek: "The refs got it right."
Was it a turning point: "Ya".
On minimizing the stick penalties:  "The penalties Brendan took Brendan deserved."
Up next:
The Jets will return home and have a day of rest on Saturday as they get acclimatized back to North America.  They are scheduled to practice on Sunday out at the IcePlex at 11 am.  They won't play their next game until Friday night here in Winnipeg against the Avalanche.