Euro Curve takes a daily look at the international hockey scene.

– Former Phoenix Coyotes Left Winger Patrick Fischer has signed with SKA St. Petersburg of the Russian Super League. Fischer had 4 goals and 6 assists in 27 games for the Coyotes last season. The 32-year-old product of Zug, Switzerland has 400 + career points in 14 seasons split between HC Davos and EV Zug of the Swiss League.
– Hockej.cz reports that Eisbaron Berlin ( Berlin Polar Bears) have expressed interest in Former New Jersey Devils Defenseman Dan McGillis. *** Various sources are now reporting that Vancouver Canucks GM Dave Nonis has invited McGillis to training camp on a try-out basis, possibly in an attempt to fill a hole on the depth chart caused by the injury to Veteran blueliner Sami Salo.
– An interesting article on St.Louis Blues 2004 draft pick Viktor Alexandrov (3/83), who currently plays for Metallurg Novokusnetsk of the Russian Super League.
– Remember Former New Jersey Devils Draft Pick and Israeli National Max Birbraer? He currently plays for the Cardiff Devils of the Elite Ice Hockey League (Britain).
– INTERNATIONAL ROSTER OF THE WEEK
Each week I will post a different club or country's roster:
MODO HOCKEY ( Swedish Elite League)
Goalies:
Michael Zajkowski
Karol Krizan
Defensemen:
Mattias Timander
Hans Jonsson (A)
Per Hållberg
Oscar Hedman
Tommy Wargh
Pierre Hedin
Adam Andersson
Victor Hedman
Forwards:
Magnus Wernblom
Per-Åge Skrøder
Marcus Jonasén
Andreas Salomonsson ( Ex-Devil)
Tobias Forsberg
Peter Öberg
Jari Tolsa
Oscar Steen
Patrick Yetman ( Canadian)
Niklas Sundström (A) ( Former Montreal Canadien)
Andreas Molinder
Per Svartvadet (C) ( Former Atlanta Thrasher, won the Guldpucken Award last year as MVP)
Fredrik Warg
For Illegal Curve, I'm Ezra Ginsburg.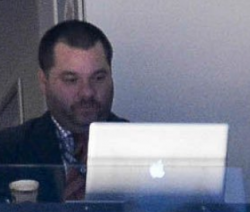 Latest posts by Ezra Ginsburg (see all)