Globe & Mail: Atlanta Thrashers moving to Winnipeg. Stephen Brunt breaks the news that the Thrashers will be moving to Winnipeg. While we at IC are optimistic that the team will come here, we will wait for confirmation from another source before we run to Portage & Main.
Globe & Mail:  Why Bettman fights for Phoenix.  The implication is that GB's ego is keeping the Coyotes in Phoenix.  I'd suggest it was the 25 million that was forked over from the COG.

Atlanta Journal Constitution:  Down to one group negotiating to keep the Thrashers in Atlanta.   I think this is the ASG doing what it needs to do to appease the NHL (exhausting search for local ownership) as well as attempting to gain some leverage vs. True North.
Penn Live:  NHL should return to Winnipeg.  Nice to hear the comments of a team beat writer, who has been to Winnipeg and can give a non-biased view of the city.
Toronto Star:  The Spin. Not too surprising that the ASG is trying to get as much out of True North as they can get.
Finally, hearing whispers that negotiations between Atlanta and Winnipeg over the future of the Thrashers may be slowed by the difficulty in reaching a sale price. The team is valued at about $60 million by industry analysts, and the Winnipeg group backed by Mark Chipman and David Thomson may be wondering why they are being asked to pay $160 million or more.
TSN:  Can't debate Winnipeg's love of Jets name.  Perhaps if we want to win a Cup we are best off leaving name in the past.  I'd ask for readers thoughts but you have voted overwhelmingly in favour of the Jets name in a previous IC poll.
Winnipeg Free Press:  Keilback would like shot at another WRAPAROUND.  One of the best guys to do play-by-play.  I really hope he is given an opportunity.  Give him a listen as he calls Teemu Selanne's goal to break Mike Bossy's rookie goal scoring record.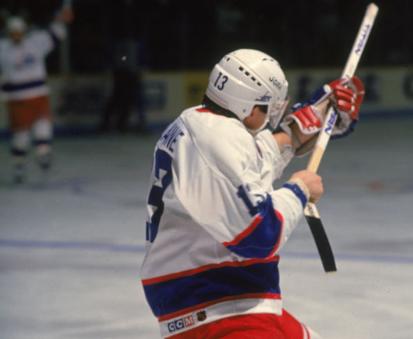 Click 'read more' for additional news links, blogs and today's tweet of the day.
Winnipeg Free Press:  NHL team would mean fight for radio rights.  Since the Illegal Curve Radio show is broadcast every Saturday from 9 am to 12 pm cst on Sports Radio 1290, it isn't difficult to figure out which station we think should get the broadcast rights.
Atlanta Journal Constitution:  Lil John not interested in investing in Thrashers.  One can't help but think of the parallel between Dave Chappelle's Lil John sketches, where periods of lunacy are punctuated by briefs periods of lucidity and this Thrashers mess.
Winnipeg Sun:  NHL's calm before the storm.  Friesen has done an excellent job covering the NHL's return to Winnipeg.  If this is in fact the calm before the storm, I cannot imagine how crazy it is going to get in Winnipeg, when the actual storm hits.

CBC:  Is Winnipeg itself biggest obstacle? I was hoping Morrison was talking about Winnipeg's skepticism that the NHL will actually allow a team to return to the Manitoba capital.  I don't think there is any questions fans will step up to the plate.
Montreal Gazette:  Winnipeg readies welcome mat…again.  I used this analogy on air during the Illegal Curve Radio show last Saturday and both Ez and Leah gave me blank looks, but Winnipeg feels like Charlie Brown and we keep expecting the NHL (Lucy) to pull away the ball but we want our shot regardless.  Let's hope this time we actually get a chance to punt the ball.
Blogs:
We Love DC:  Atlanta, Winnipeg and how it may affect the Caps.  Taking a look at how this move could shakeup the Southeast.
Midwest Sports Fans:  Franchise relocation's that never happened.  Lest people count their team before it arrives, here are some examples from the past of team's that were supposedly moving, but didn't.
Eye on Hockey (CBS Sports):  Gary Bettman says don't buy into Winnipeg hype.  A classic non-denial denial by the Commissioner of the NHL.
"True North is going about their business and they're taking a businesslike approach," Bettman said. "We are pleased with that, but there's nothing to report. . . . I never say never about anything. There is no deal right now."
SB Nation Atlanta:  Save the Thrashers 'Rally' needs shocking turnout to avoid ridicule.  Its a damned if you do and don't situation.  If they don't get a ton of fans, then they will be ridiculed as being a bad fan base.  Even if they do have a great turnout, I'm not sure it's too little too late to save the franchise, so the effort might be wasted.  At end of day, always better to give it a shot.
Tweet of the Day: