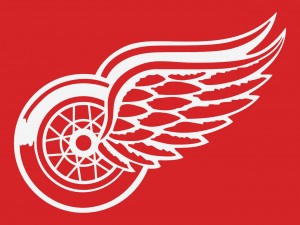 The Detroit Red Wings last season were one game away from repeating as Stanley Cup Champions.  The wounds from that loss are still fresh and should serve as motivation for this season.  They would have been the first team to repeat since the Red Wings of 96/97 and 97/98.  GM Ken Holland has been very busy all summer ensuring that the Wings will be back on top of the Central division this season.
And quite the busy summer it has been for the GM.  The Wings lost a ton of scoring; Marian Hossa left for Chicago (40 goals), Jiri Hudler left for the KHL (23 goals), Mikael Samuelsson went to Vancouver (19 goals) and Tomas Kopecky, who joins Hossa in Chicago (6 goals). 
However GM Ken Holland did what he could to stem the tide as he added a couple of former Wings Todd Bertuzzi & Jason Williams, Patrick Eaves, Doug Janik and two Leafs prospects in Jeremy Williams, Kris Newbury.
Now the Wings lost a lot of scoring (88 goals from the above listed players) and while the new additions are not even in the same stratosphere in terms of scoring, you don't make the playoffs every year since 1989/90 and win 13 Central division titles (technically 12, as 1 was a Norris) by not learning to use the resources you have at your disposal.
So the Wings have some big questions to answer this upcoming season, namely;  1) How will the loss of all that scoring power be offset?  2) Can they regain a top tier penalty kill? and finally 3) Can the improvements by their Central Division competition, knock them from the top?
Forwards:
While the loss of Hossa, Hudler and Samuelsson has diminished the scoring depth of the Wings, Detroit doesn't exactly have a bare cupboard at forward. 
Now I could speculate on line combos but courtesy of an interview today by Chris McCosky of the Detroit News this is what the Coach had to say regarding his potential line combos:
"A key battle would be for the third center position. He has Helm penciled in as the fourth-line center. Zetterberg, Datsyuk and Valtteri Fippula are the team's three top centers.  Babcock is hoping that enough wingers emerge so that he doesn't have to use Datsyuk and Zetterberg on the same line."
So it would appear that he will be splitting Zetterberg and Datsyuk (haven't we heard that before?) to spread out the offence and give the Wings more depth.  Both are top NHL centers/winger and can dominate a game when they choose.  It is actually interesting to see both these players at work, as Datsyuk is a little bit more flashy with his tremendous stick-handling ability and puck possession skills; but Zetterberg is probably equally difficult to knock off the puck and is maybe the best two-way player in the NHL today. 
Johan Franzen's production continues to rise over the past three seasons and this trend should continue for the man known as "The Mule."  He just has a nose for the net, which is obviously helped by his ridiculously good shot–he scores from angles most players only dream of.  Furthermore, Franzen is willing to go to the dirty areas to score, so as long as he stays healthy, he should continue to score at the levels he has in the past.
The heavy lifting is going to have to come from the shoulders of some pretty big men.  Daniel Cleary is going to have to improve on his 14 goals from last season, a healthy Todd Bertuzzi will need to generate more than 15 and even Valtteri Filppula is going to need to step it up in the absence of Hossa's goal scoring.
Of the three, Filppula possess the most god-given talent and he has the ability to take his game to the next level.  Cleary just needs to continue going to the net and will have the motivation of a possible Team Canada spot pushing his first-half play.  As for Bertuzzi, he was not impressive in Calgary last season, he struggled immensely defensively and was really only serviceable on the power play, but the Wings are hoping his veteran presence puts pressure on the youngsters to step up their games to earn ice-time, and vice versa.

Jason Williams is a useful player that can skate and play the point on the power play, as well as add some nice offense from the wing.  He is not a great two way player but he seems to post respectable point totals wherever he ends up.
Another off-season acquisition Patrick Eaves brings a cheap, physical presence to the wing–as he is a very strong player along the boards.  He actually has decent hands too, and he could very well be the most productive of the team's off-season pick-ups.
With Jiri Hudler gone to the KHL, expect Ville Leino to eat many of Hudler's lost minutes.  Hudler was a tremendously efficient offensive player but his defensive deficiencies cut into Mike Babcock's trust, so if Leino proves responsible at both of ends of the ice, his offensive game will see more ice-time.  He is capable of scoring over 20 goals this season if he stays healthy.
Of course we would be remiss if we left out old reliable Tomas Holmstrom.  Of course you can find him taking a beating in front of the opposing team's net and there is no reason to believe this season will be any different from the rest.  Holmstrom has become a leader on this Wings squad and will continue to serve the team well.
On the depth lines, the Wings boast the speedy and active Darren Helm, veteran face-off specialist Kris Draper and veteran penalty killer Kirk Maltby.  Helm is on his way up, while the other two are closing in on the final seasons of their respective careers, but all three will be important in any prolonged Detroit run in the post-season.
Finally, it appears that Michigan fans won't have to worry about hearing the MSU fight song played too often at 'the Joe' as playoff sensation Justin Abdelkader is expected to play in the minors to continue his seasoning.  But when he does finally arrive, here is some of what the Wings get to look forward to:

One of the things I thought the Wings were missing last season was some grit.  It has been said that you can never have too many skill players but perhaps Detroit was missing some of that bang and crash, and with the additions they have made, it will hopefully open it up for the skill players like Zetterberg and Datsyuk.
Defence:
In that same Detroit News article, Coach Babcock made an important declaration which takes us to the 2nd part of the question as to whether the Wings can continue to dominate the West and that was;
"Maybe if we don't let so many goals in this year, we won't have to score as many. We have to find a level there."
The Wings probably have one of the top D cores in the NHL and they will need to be if the Wings are expecting to succeed this season.  Ken Holland said as much during an interview with George Malik of the Snapshots blog when discussing the scoring the Wings had lost back on August 20th,
"We're not going to be able to replace them all, but hopefully we can replace about 50-60 of them, and we're going to have to be better defensively."
The starting five of Nicklas Lidstrom, Brian Rafalski, Niklas Kronwall, Brad Stuart and Jonathan Ericsson are set.  That is a terrific looking group. 
What else can you say about Lidstrom?  He has been the best defenseman in the NHL for so long, that we have become used to his tremendous play–even as he closes in on 40 years old.  Lidstrom is arguably the best positionally sound defenseman of his era and moves the puck as well as anyone who plays rearguard.
In Rafalski, the Wings have another supreme puck-mover; however, his defensive skills aren't at a top pairing level (he was beaten numerous times during the playoffs last season).  In fact, the team's second best defenseman is most likely the young, hard-hitting Niklas Kronwall.  The big Swede can skate like the wind (especially for big player) and hits harder than maybe anyone since Scott Stevens.  Moreover, he has terrific puck skills.
Kronwall will be joined on the team's 1B pairing with smooth skating Brad Stuart.  Stuart has found a home in Detroit after moving around the NHL (San Jose, Boston, Calgary) and has become a more aggressive player over the years.  He also make a good first pass, but doesn't possess the power play quarterbacking ability–however, that isn't necessary in Detroit anyhow.
The youngster Ericsson was actually drafted as a forward.  He is big, uses his long stick to his advantage and plays a mean game.  His youth was evident at times during the playoffs, he took some penalties he probably won't take in two-to-three years, but his talent is unquestionable.
The final member of the Wings top six would normally be Andreas Lilja who will likely start the season on the long term injured reserve as he is still suffering from post concussion symptoms from this punch to the head delivered by Shea Weber. 

So who will be Detroit's 6th and 7th defenceman while Lilja recovers?  It would appear that the Wings favour Lebda for the final pairing and Winnipeg's Derek Meech as number seven.  If Lilja returns he would be the sixth defenceman for the Wings and since GM Ken Holland has declared that the Wings won't carry 8 defencemen, it would appear that Derek Meech (unless he wow's Babcock during training camp and beginning of season) will be extraneous and likely traded.
Hopefully for the Wings, Ericsson is ready to step up in his first full season with Detroit.  Expectations are high and playing with Lidstrom and Rafalski should help with his development.
The most important area for the Wings defence to improve collectively as a unit is on the penalty kill.  Since the lockout the PK has seen a steady to rapid decline in effectiveness.  From a lofty 3rd spot in 2005/06 (85.5%), which was followed up in 2006/07 with the Wings falling to 6th overall (84.6%), to 8th in 2007/08 (84%) and finally all the way down to 25th last season, killing off a measly 78.3%. 
If there is one area in which they will have to improve it is during the penalty kill if they hope to offset the loss of scoring.
Goal:
The goaltending situation in the 'D' always seems to make fans nervous.  Chris Osgood is the Rodney Dangerfield of hockey; he just can't get 'no respect'.  Despite this, he will be the #1 goalie for the Wings next season. 
With the departure of Ty Conklin to the Blues, the goalie of the 'future' (for the past 5 years), Detroit's 64th pick in the 2003 draft, Jimmy Howard is ready to assume the mantle.  Well, the mantle of Osgood's back-up as he gets some more NHL seasoning.  However he probably shouldn't get too comfortable in that back-up role as Dan Cloutier is attempting to resurrect his career.  After taking a year off from hockey he put in a call to Wings GM Ken Holland to request a training camp invite.  Opinion is divided as to whether Holland really wants Cloutier as a back-up or if he is at camp to push Howard. 
The key to success (at least in the future) is what is coming up from the Grand Rapids Griffins.  Last season Daniel Larsson went 22 W with 12 L with a 2.76 GAA and a SV % of 0.907 backing up Howard and is expected to be the starter for Grand Rapids.    His backup will likely be 22 year old Jordan Pearce (University of Notre Dame free agent signing) and if this 'hockey business' doesn't work out he has offers to go to medical school, which he has put on hold until he sees how his hockey career develops.  In the Wings stable of goalies, 19 year old Thomas McCollum (2008 draft, 1st Round, 30th overall) is seen as a 'sure thing' (of course so was Howard 5 years ago) and will be battling Pearce for the back-up role in Grand Rapids.  Pretty much one of these three will be the goalie of the future in Detroit.
However Wings fans can rest assured that, despite the fact that Chris Osgood has played 131 games (regular & playoff) over the past 2 seasons, his GAA went up a full goal last season (from 2.09 to 3.09) and his save % has gone from .914 t0 .887,  he should have enough in the tank, with one of the most solid defensive groups in front of him, to lead Detroit to another central title and a long playoff run.  And just in case that isn't enough, recall this save he made in Game 1 of the Finals versus Malkin with the score tied a 1.

Class of Competition:
Which leads us to the final question for the Wings this season; Can the improvements by their Central Division competition, knock them from the top?
Chicago Blackhawks – These guys will be the one team that can catch Detroit but the biggest question mark for me is can Huet replace Nikolai Khabibulin?  For a game or two he did a good job in the playoffs (none bigger than this save on Franzen during Game 5 of the Western Conference Finals).  Lost Havlat, added Hossa.  Should be interesting.

St. Louis Blues – Only big free agent addition was Ty Conklin (if that can be called big).  Now last season's big run to the playoff's was all the more impressive in that it was accomplished without Erik Johnson, who was out for the season following a pre-training camp knee injury, Eric Brewer who required surgery to his back which ended his season in December and even Paul Kariya, who had surgery on his hips.  I think the Blues might be the team that surprises everyone next season.
Columbus Blue Jackets – From IC's Ari here are his thoughts on the Jackets ceiling; Columbus has the potential to finish second or third in the Central division and be the team that no one wants to face in the first round of the playoffs. Anywhere from 4th to 6th is possible as long as Mason plays as well as last year. Columbus has basically the same team as last year, including many young players that should only improve.  And most recently we have Coach Hitchcock calling for the Wings blood.
Nashville Predators – Just has a solid team.  Nothing flashy.  But as Andreas Lilja learnt last season, they have the grit to punch you in the mouth as well as enough grind to score some solid, but not flashy goals.  Very good coach.  Question mark as to which goalie will be #1.
My Predictions:
Ceiling– While the Wings have lost a big chunk of scoring, and the Hawks have improved (at least at forward), they still have enough character to win the Central division (although I expect it to be closer than last season's 8 points), finishing either 1st or 2nd in the Western Conference.  I could see them making it to the Western Conference finals, where age and fatigue might finally catch up to them.  They are still a threat to win the Cup.
Floor– Could age and fatigue finally catch up to the Wings?  Well I don't anticipate it doing so (this season) but if it does, we could see them slip to 2nd in the Central (behind the Hawks) and perhaps a loss in the 2nd round of the playoffs.  We know the Wings have lost some punch and the biggest question to be answered is, has the rest of the Central caught up to them? 
Wing Blogger Thoughts:
In addition to the above analysis I thought it would be a good idea to get a quick thought from Wings bloggers.  These guys follow Detroit through the ups and downs of each season, so who better to get a quick hit from them then?
Casey from Winging it in Mowtown said:
"The Red Wings will be fine if they are able to return the defense to its old form. They need this to happen instead of hoping it will happen after the departure of 88 goals from last year's roster. This year's team will likely be more physical which I think will eventually open up the ice for the playmakers to get their work in. The biggest question for me is Jimmy Howard's ability to be a fulltime back-up to Chris Osgood. Other than that, the Wings will be back in the playoffs. I'm not calling a division title yet, or anytime soon, with the number of pick-ups the Blackhawks made but I
would truly be shocked if this squad didn't make the playoffs."
Kris from Snipe Snipe Dangle Danlge said:
"I expect them to be perfectly fine.  If they can stay healthy, there's no reason they can't go deep into the playoffs again.  They've got more than enough skill and motivation to get the job done.  The whole team is going to recommit itself to defense, and that will be the key to their success this year.  Most people outside of Detroit have been having fun this summer predicting the downfall of the Wings, but they've failed to account for two things:
1)Those same predictions have been being made for the last ten years or so, and not a single one of them has come true.  It's the same "too old" "too slow" "washed up" nonsense that I've been scoffing at since before I knew what the word "geriatric" meant. 
2) Despite the fact that a lot of offense left the team thanks to free agency and the KHL, the guys who are being promoted from Grand Rapids are more than able to pick up the slack.  There's a lot of excitement around Hockeytown about the prospect of seeing full seasons from Darren Helm, Jonathan Ericsson, and Ville Leino.  These guys aren't your average rookies.  They've all been through a lengthy playoff run (in Helm's case, two), and didn't look at all out of place on hockey's biggest stage.  I would think that if the hockey world had learned one thing over the last decade, it would be to never doubt Ken Holland and the Red Wings' development system."
Tyler from The Triple Deke said:
"As the summer has worn on, and the Wings have done what they could with their limited cap space, I've grown increasingly optimistic about 2010.  My level of concern for how this team will hold up over the course of a 4th straight deep playoff run has subsided a somewhat.  Of course I worry about Zetterberg, Kronwall and Franzen being a bit injury prone, and I worry about Osgood, Lidstrom and Rafalski's age — but I just don't think that's going to be a deciding factor.  It was sickening after Fleury made that last save in Game 7, and I think that losing on home ice like that is going to drive them for the next 9 months.  I wouldn't be surprised if they have a better season than last year despite losing Hossa, Hudler and Samuelsson.  (Note: I usually I feel obligated to throw Kopecky in that group, but after watching him have little impact as a Wing and then laughing when the Hawks gave him $2.4 million, it feels a little frivolous.)  People who don't watch the Wings regularly already know about the big guns, but guys like Valtteri Filppula, Ville Leino, Darren Helm and Jonathan Ericsson are going to play a bigger role this year.  Filppula has a world of talent coming off of an excellent playoff run, and he could take a leap forward in 2010.  His career high in points is only 40 (last year), but he has some 20 goal / 40-50 assist seasons in him — it's just a matter of when he puts it all together. 
Also, I just don't think the other teams in the West got that much better, so on paper at least, the Bertuzzi and Williams downgrades don't seem so bad.  The Flames bolstered their blue line and lost some scoring; the Hawks have a few months of Hossa and still have Huet in net; the Sharks couldn't do a whole lot; the Ducks added Koivu and Lupul but lost one of the top 3 or 4 defenseman in Pronger; and so goes the story of salary cap.  I'm 100% biased, but I still say the Wings have the deepest crop of forwards and defenseman, plus maybe the best coach.  So for the umpteenth year in a row, it's another Red Wings season where expectations are all-or-nothing."
Matt from On the Wings said:
"I expect the Wings to be great this year. They'll have plenty of motivation and should be playing with a chip on their shoulders. The Game 7 loss won't be forgotten and while they certainly have no need to prove anything to anyone, they will want to show that they can get right back there. They took some hits in the off-season personnel-wise so they may not be the best in the league in the regular season, but you can bet they'll be tops when it comes time for the playoffs. Despite the majority opinion in the hockey world this summer, I wouldn't bet against them this year. "
Chris from Motown Wings said:
"For the Wings this season, it's all goign to come down to consistency on defense. Despite losing a solid chunk of scoring to free agency, the Wings have patched the holes enough to make up some points, but nothing can substitute for solid defensive play. I look for Brad Staurt, Niklas Kronwall and Jonathan Ericsson to step their games up and learn to play a stingier, more hungry defensive style, and for Nicklas Lidstrom to set the tone for the blue-liners with his consistent play and savvy leadership skills. 
As far as how they finish after 82 games, I like our chances to take the division again this year. Will it be close for awhile? Yes. Will it be close down the stretch? More than likely. But with a chip on their shoulder and boatloads of talent, you'd be foolish to bet against the Wings until someone from the division proves that they can take them down on a regular basis and outlast them over an 82 game season."