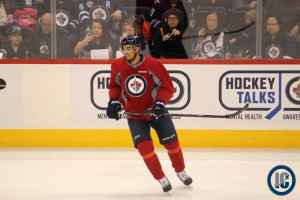 As expected the Jets bench boss said we would have an update approximately two weeks from when Evander Kane sustained the injury which occurred in the first game of the season back in Arizona on October 10th.  Sure enough he did just that today following practice.
When asked about Kane's status coach Maurice indicated that the forward is "progressing quite well to the point that we have an expectation here in the next few days that he will be back on IR skates, is what we call them, but non main group skates.  So nobody runs into a guy.  But he will be back on the ice we think sometime this week and then after that it is as much about strength and healing time and things like that so it's kinda positive news with him".
This is roughly what we expected and of course we now play the week to week status game while waiting further word as to when the Jets may expected the sniper back in the lineup.  Kane pretty much said the same thing when he joined Dennis Beyak in the broadcast booth on Tuesday night.
Stay tuned to @illegalcurve for any updates.