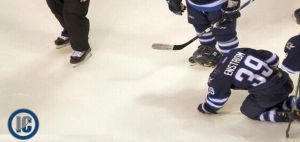 Tobias Enstrom left the Jets game yesterday afternoon against the Canucks after he got tangled up with five minutes to go in the 3rd period.
Today coach Maurice addressed the media and informed us that "He came back better than he left so we will bring him and there's a chance that he will play on the road trip.  We will list him as day-to-day.  We have to see how he is tomorrow before we make any decisions on tomorrow night's game."
He also informed the media that defenceman Ben Chiarot comes off the IR today.  Chiarot has missed the last 17 games since a February 21st fight he had with then Toronto Maple Leafs forward Daniel Winnik.  He was placed on IR on February 24th.
Speaking about the challenges Chiarot faces coach Maurice indicated that "he has had full time to recover and he's had full practice time….It was my choice to get him more practice time….I think he's been ready to go and he will go in and play big minutes".
You can hear coach Maurice's full comments following the skate this morning at MTS Centre here.