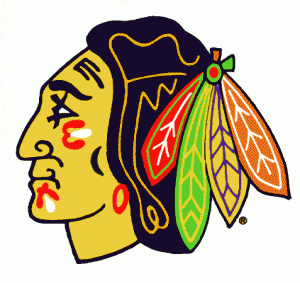 The Chicago Blackhawks came up harder and faster than any other National Hockey League team last season.  After missing the playoffs the previous six years, the Hawks racked up 104 points (good for 6th place overall) en route to a respectable Western Conference finals appearance against the powerhouse Detroit Red Wings.  Individual breakout performances (Kris Versteeg, Cam Barker, Dustin Bfyuglien) and team synergy were plentiful last year (especially in the first round of the playoffs against the Calgary Flames) as a team loaded with promise met and surpassed most expectations set upon them by the hockey world. Not bad at all for a team that fired former head coach Denis Savard four games into the season.
But, you say that this is supposed to be a season preview and not a recap of last year. Well, we must learn from history in order to understand the future right?
The youtful Hawks are in a wonderful position entering this season (Patrik Kane's off-ice troubles aside) and are absolutely loaded at every position (goaltending included).  By acquiring big-game fish Marian Hossa (41 goals last year) and John Madden (Two-time Stanley Cup winner), the Hawks have crystallized a developing team that has skill at every position.
Let's break down this year's version of the Hawks, which should be even better than last year's squad.
Forwards
The Hawks had no trouble scoring goals last year (260),  boasting eight forwards with 15 or more markers.  Chicago has four dynamic forward lines, all with the ability to put the puck in the net.  Thus, the Hawks primary strength this season will be its distributive scoring led by Captain Jonathan Toews, Patrick Kane, Patrick Sharp and Marian Hos
sa (who will miss the first two months of the season recovering from shoulder surgery). Consider that new addition John Madden will most likely center the team's third line between Andrew Ladd and Dustin Bfyuglien.  Even if those three  players were to post similar numbers to last year–and that is unlikely as the 36-year-old Madden had an uncharacteristically low seven goals last year– that is still 37 potential goals from the third line. Bad boy Ben Eager even chipped in 11 goals on the fourth line last season and he is expected to be matched up with former Red Wings prospect Tomas Kopecky and feisty pest Adam Burish.
In fact, Chicago is so deep that prospects such as Jack Skille and Kyle Beach may not even see consistent ice time until sometime next season because of the rapid development of players like Dave Bolland and Kris Versteeg who thrived playing together last season.
Grade of Forwards: A

Defensemen
Chicago's rearguard crew is the envy of every coach and GM in the NHL these days.  After years of exceptional drafting and scouting, and a certain free-agent signing (Brian Campbell, seven years, $52 million) the Hawks have the best collection of defensemen in the NHL with arguably the exception of the Red Wings.  Led by future Olympians Duncan Keith and Brent Seabrook, who were a combined plus-56 last season, the Hawks are quick on the draw out of their own end and possess a mean streak that was especially felt by the Calgary Flames and Vancouver Canucks during last year's playoffs.
Even though Campbell put up 52 points last year, he was criticized for his poor defensive zone play.  On a team that is clearly striving to become a more complete team like the afformentioned Red Wings and San Jose Sharks, it will be interesting to see if Campbell will be asked to reform his game or if he will be allowed to continue ripping around the ice like a jet ski knowing that the dividends include more goals on the scoresheet.
Perhaps the biggest surprise of last year was the all-around development of Winnipeg's Cam Barker. Barker clearly showed that he was more serious about his game last year and has turned into a dandy.  Barker is physical and posseses underrated power-play quarterbacking abilities. Barker has found a match playing alongside high-flying Brian Campbell and takes some of the offensive load off his counterpart, giving Coach Joel Quenneville yet another weapon on the blueline.
22-year-old Niklas Hjalmarsson will pair up with veteran Brent Sopel on the team's third defensive pairing and will be counted on for smart defensive play and some  extra offensive contributions. Both Hjalmarsson and Sopel have a sandpaper element to their game which compliments the bad boy persona of the team's forward group.
It appears that Aaron Johnson and Richard Petiot will battle it out in training camp for the team's final defensive spot.  Johnson played 38 games for the Hawks last season while Petiot was acquired from the Tampa Bay Lightning.
Grade of Defensemen: A

Goalie
Predictably, superstar goaltender Nikolai Khabibulin bolted (get the pun?) for the Edmonton Oilers shortly after the playoffs ended, which instantly made Cristobal Huet the undisuputed Number-1 goaltender in the Windy City.  Huet is a relative enigma in the NHL but he has always put up very good numbers.  Because Khabibulin inhabited the crease for most of last season, Huet was relegated to the back up role, which was not part of the original plan when he signed a multi-year big pay day contract.  Huet managed to post 20 wins and a solid .909 Save percentage in only 41 games last season and will surely benefit this season from knowing that he will be the go-to netminder heading into training camp. Huet is the type of goaltender who thrives when he sees a lot of rubber.  Remember, Montreal was not exactly a defensive juggernaut when Huet was there and he posted some pretty special numbers.
Huet's back-up this year will likely be Montreal native Corey Crawford, who has been developing his game in the American Hockey League. Crawford has spent four seasons on the farm and will fight off Finnish stopper Antti Niemi for the job.
Grade of Goaltenders: B+

Overall
The Hawks are front-page news in Chi-Town and have created a colossal buzz by signing known superstar Marian Hossa. Chicago unfortunately had a difficult off-season with the firing of Dale Tallon and the bizarre incident involving Patrick Kane and a taxi cab driver but the team is in a position to compete for a Stanley Cup.
The Hawks have kept most of their team in tact from last season and have added one of Detroit's best players from last year so the pressure has increased substantially.
A Western Conference finals appearance may not cut it this year.
Final Prediction (ceiling): 2nd in Central Division, 4th in the Western  Conference, and 41 sellouts at the United Center.

(floor): 3rd in Central division, 6th in the Western Conference