The news officially broke this morning that Jansen Harkins signed a three year entry level contract with the Jets while Michael Spacek signed an amateur tryout offer with the Manitoba Moose.  Harkins also inked an amateur tryout offer with the Moose.    Both players were on the ice for today's Moose skate at the MTS IcePlex as the team gets ready to face the Roadrunners tonight at 7 pm at the MTS Centre.
Following skate I caught up with both players.  I spoke to Harkins last season when he joined the Moose but I last spoke to Spacek, via an interpreter, at the 2015 NHL Entry Draft in Florida when he was drafted by the Jets.
First up was 2015 2nd rounder Jansen Harkins.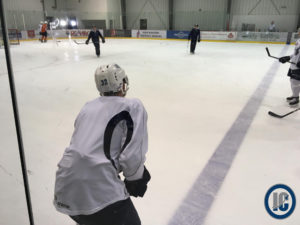 On signing his three year ELC deal:  "It's exciting.  I feel like it has been awhile since the draft.  I am excited for the opportunity obviously and its nice to see they have some belief in me."
On the process of signing:  "It's always in the back of your head ever since the draft really, that's the next step.  I'm happy I was able to show them what I can do (this year) and to get that faith in myself is pretty nice to see."
On his development the last couple of years since he was drafted in 2015: "Its been pretty quick to be honest.  Especially this year has gone by really fast.  I think I've grown a lot as a player, I'm pretty confident now and know I still have work to do but I am in a good spot to get started."
On becoming the all time points leader in Prince George:  "It's really special.  Going into the year it was kind of there but I didn't really think about it too much.  I think I just played and we had a good team this year which helped.  Every guy on my team, good linemates, good D, just a solid team.  That was a big help for me.  Coming down to the last couple of games it was when it was right in front of me so I was able to get it which was very special for me."
On how he has changed since his last stint with the Moose last April:  "I'm a lot faster and stronger.  I put a lot of work in last Summer and this year I continued to develop that way.  Obviously one year older I am more comfortable now.  Hopefully I can get comfortable quick and get into my game."
Next chat was with 2015 4th round pick Michael Spacek.
On how his year went in Red Deer: "Was a great season for me.  I was happy to be there  Great teammates, great organization."
On the difference in his play this season compared to last year: "Was my first year, was a big difference for me.  New country, people, language.  My second season was easier because I knew lots of guys, was more comfortable."
On getting to play his first professional hockey game: "It is something special.  I am very excited."