Goalie helmets are no longer simply meant to ensure that a goalie doesn't get killed when a puck comes flying at his head at 100 mph.  They have become works of art with goalies taking special pride in helping to design the lid they wear.
There has been a lot made of the new mask that Jets goalie Connor Hellebuyck will wear this upcoming season.  I had a chance to catch up with him to discuss his thought process behind the helmet art that appears on his mask (Steve Nash of Eye Candy Air paints his helmets).
First up was the right side of the mask which contains an Alaskan Malamute as well as a Muskellunge aka a Musky (also known to those of us who enjoy fishing as 'the fish of 10,000 casts').
"I got a new dog.  An Alaskan Malamute.  Very similar to a wolf or the looks of a wolf and I love the thought of winter being so cold here and the wolf howling at the moon in the middle of winter.  I just love that idea.  And we've got a whole underlying theme of the ice here, cause of the Heritage Classic and pond hockey is very big."  The Jets goalie added that having a fish is one of his trademarks.  I asked if this was the same Musky he had caught in Lake of the Woods last year when he and some Moose teammates went on a fishing trip and he confirmed with a laugh that it was (or at least a reasonable facsimile).
He then flipped to the left side of his helmet:
"This was the whole theme of the wilderness and the ice.  Got some Moose on there." (It appears to me that one of the images is more like an Elk than a Moose but that's just the wannabee zoologist in me).
Connor then flipped the helmet to the top: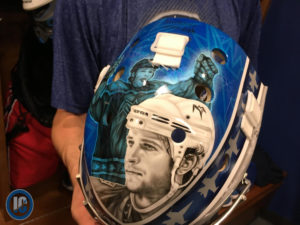 "The top is what really means a lot.  The Snyder Family have allowed me to use Dan Snyder's number which was retired, so I wanted to give him a little piece of the game I guess."  I asked him if he has had the opportunity to meet the family to which he indicated "I plan on meeting them.  Hopefully it's soon because I am very grateful for them allowing me to carry on the number because it means a lot to me and hopefully this shrine can mean a lot to them.  Means he is still part of the game."
Lastly we looked at the back of the mask:
"I said Thanks Dan Snyder & Family instead of my last name.  Then everything else is just my path.  From Michigan, played in Odessa (Jackalopes), the Oilrig is their third logo and the Riverhawks was my college team and these (numbers) are my college goalies that I was there with."  (#31 would be Doug Carr and #30 would be Brian Robbins).
You've now gone behind the mask with Connor Hellebuyck.  Next up is fellow Jets tender Michael Hutchinson.