Winnipeg NHL Site:  Full 2011-12 schedule.  There are a lot of significant games that jump out in October alone.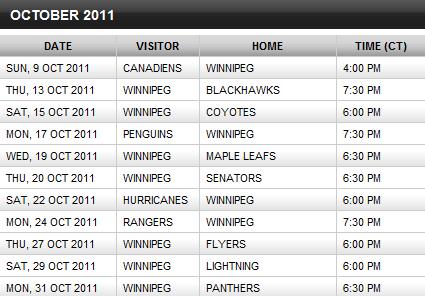 Winnipeg Sun:  Give city's key to local hero. This would likely get a unanimous vote.  Having said that, who knew they still gave away keys to the city.

Winnipeg Sun:  NHL unveils 2011-12 schedule.  Very interesting that the NHL choose to put Winnipeg in Phoenix for the Coyotes home opener.  From True North's press release;
In the franchise's first ever home opening game at MTS Centre, Winnipeg will host the storied Montreal Canadiens on Sunday, Oct. 9, 2011 at 4:00 p.m. CT. They will then head out on the road for a pair of games against Winnipeg native Jonathan Toews and the Chicago Blackhawks on Thursday, Oct. 13th and then the Phoenix Coyotes on Saturday, Oct. 15th before returning home to face the Pittsburgh Penguins at MTS Centre on Monday, Oct. 17th.
Fan 590:  Assistant GM says Winnipeg's draft pick to wear generic uniform.  Probably best so the crowd can cheer the pick and not go crazy about team name.  Have to expect that a big portion of the fans at Xcel will be made up of people from Manitoba.  If they announced name at same time, I could see draft being totally disrupted by cheering for next 30 minutes.
Sporting News:  Winnipeg franchise hires Claude Noel.  At least there won't be a "getting to know you" phase with the team's first head coach.
NHL News:
TSN:  Bryzgalov signs nine-year $51 million deal with Flyers.  He will have solid defence in front of him which is a good thing since the team sent off their top scorers as well today.
TSN:  Flyers deal Richards, Carter in separate trades.  Good news for Richards' family is the Kings play in Winnipeg on the 29th of December.
USA Today:  Flyers deal Carter to Jackets for Voracek, picks.  Carter and Nash are going to be a scary good combo.  This should allow the Flyers the cap space to sign Bryzgalov.

More general NHL news including Jagr, Brian Burke and goalies after the jump.
ESPN:  Jaromir Jagr speaks with Pittsburgh's Mario Lemieux.  Love that he never sold his house in Pittsburgh cause he was "too lazy".  The Wings have shown they know how to win with a veteran team.
Toronto Star:  Burke open to dealing top-three Leaf picks for established player.  He's always working an angle.
CBC:  The goalie factor.  Seems to be the biggest X factor when selecting for type of player.