The Jets prospects had a less than ideal start to this tournament when they dropped the opening game to the Senators prospects 8-1 on Friday night.  They are looking to bounce back today against the prospects from the Habs organization this evening in Belleville.
We've learned courtesy of Jamie Thomas of Jets TV the lines, D pairs and starting goalie that Winnipeg will use tonight:
Chyzowski-Suess-Luoto
Vesalainen-Gustafsson-Phelan
Nault-Maier-Reichel
Toporowski-Pare-Lynch
Heinola-Kovacevic
Vallati-Green
Shaw-Gawanke
Chisholm-Cederholm
Outhouse starts in goal.
Hear from coach Vincent, Ryan Chyzowski and Griffen Outhouse.
We shall see what kind of bounce back these kids have tonight.
The game gets underway at 6 pm.  You can watch it on TSN.ca or the TSN App.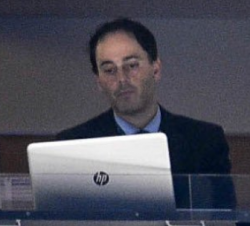 Latest posts by David Minuk (see all)