Drafted 12th overall by Atlanta in 2006, Bryan Little burst onto the scene in his sophmore season scoring 31 goals. His breakout season was a tough act to follow.  During his next two seasons with the Thashers his goal totals did not add up to his career high of 31 goals set in 2008-09.
Entering his fourth NHL season, Little was thought of as a guy who would have to have an "up" year in order for the Jets to make the playoffs.
After fourteen games, it looked like it was going to be another down year for Little. While receiving first line minutes, his point total was abysmal recording only 3 assists in that span. The critics were squawking "bust" and that his 31 goal season was a "fluke". I wondered what it would take for Noel to reduce the minutes for a player who simply wasn't producing.
Coach Noel had shown he was willing to move players to the fourth line in order to get them going, but he stuck to his guns with the then twenty-three year old. (Little turned twenty-four on November 12)
On November 8th, in the fifteenth game of the season things began to click for Bryan Little. Not only did he score his first goal of the season, he tallied another. Since then, he has been on fire recording fourteen points in thirteen games. This includes four multi-point games, and two game winning goals including Tuesday night's dramatic game winner against the defending Stanley Cup Champion Boston Bruins. It was a play straight out of beer league, he won the draw to himself, skated all the way up the ice and put the puck between Tukka Rask's legs.
Was it simply becoming acclimated to Winnipeg and playing a majority of games at home? The stats show that Little has excelled at MTS Centre. (as of December 7th, 2011)
| | | |
| --- | --- | --- |
| Stat | Home | Road |
| Games | 12 | 15 |
| Goals | 4 | 4 |
| Assists | 6 | 3 |
| Points | 10 | 7 |
| Plus/Minus | +7 | -2 |
| Faceoff Win % | 59.13 | 48.51 |
Additionally, when the Jets win, Little is one of the players who is playing his "A" game
| | | |
| --- | --- | --- |
| Stat | In Jets' Wins | In Jets' Losses |
| Games Played | 12 | 15 |
| Goals | 5 | 3 |
| Assists | 6 | 3 |
| Points | 11 | 6 |
| Plus/Minus | +14 | -9 |
If we throw away Little's first fourteen games, and look at only his last thirteen, he would have 88 points over an 82 game season. While that is interesting to note, players go on hot and cold streaks throughout the season and I am just cherry picking the best stretch. However, Little is on pace for a 51 point season, which would tie his career high set in 2008-09.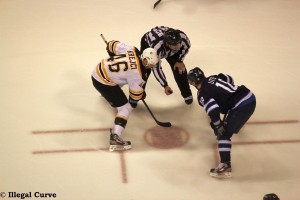 In order to have a chance at making the playoffs, the Jets need Little to continue his torrid pace and play his "A" game on a nightly basis.
Little hopes to keep the streak going tonight when the Jets take on Carolina. Puck drops 7:30 at MTS Centre