It was quite the exciting week as IC was able to send 1/2 our squad down to St. Paul, Minnesota to cover the 1st draft in Winnipeg Jets 2.0 history.  Here are some of the pictures, interviews and thoughts from this past weekend.
Sights & Sounds from the Draft – Covers Friday morning when the soon to be named Jets introduced their new head coach, Claude Noel.

Interview with L.A. Kings assistant GM Ron Hextall –  Former Flyers goalie great and a born and bred Manitoban gives his thoughts on the return of NHL hockey to Winnipeg.
Jets 1st round draft pick – One of the post that can still give me chills as not only did we get to hear/meet who the first pick of the new franchise would be, but True North's Mark Chipman subtle Winnipeg Jets mention, blew the Xcel Energy Center crowd away.

Jets 1st round pick Mark Schiefle Q & A – If you want to know more about this up and coming 'off the board' draft selection, you can get a lot of info from the Q & A.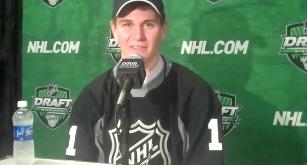 Draft Day 2 interviews –  The guys were able to interview a number of guys 1 on 1 as Day 2 was more relaxed including Leafs great Doug Gilmour, Hockey Canada head scout Kevin Prendergast, Executive Director of College Hockey Paul Kelly, San Jose Sharks dman Brent Burns, Canucks VP of Hockey Operations Laurence Gilman, Commissioner of the USHL Skip Prince and Kings scout Tony Gasparini.
Draft Day 2 scrums –  More from 3rd round selection Brennan Serville, Winnipeg Jet Dustin Byfuglien and GM Kevin Cheveldayoff.