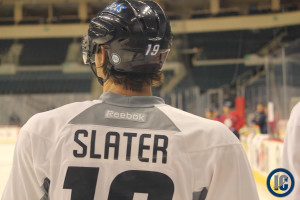 The Jets returned to the ice at the MTS Centre today after a day off on Friday.  They get set to face a Los Angeles Kings team on Sunday that has lost two straight games, including last night's 4-2 loss to Anaheim, which followed an eight game winning streak for the defending champions.
Today's lines from practice were as follows according to Ken Wiebe of the Winnipeg Sun:
Ladd-Little-Frolik
Tlusty-Scheifele-Stafford
Thorburn-Lowry-Wheeler
Galiardi-Slater-Peluso
Harrison-Byfuglien
Enstrom-Myers
Stuart-Trouba
Hutchinson & Pavelec.
Adam Pardy and Paul Postma skated together as the extra defence pairing.  According to Ken Pardy also tossed on a forward jersey late in practice.
Jets captain Andrew Ladd and Blake Wheeler chatted with the media following practice:
Andrew Ladd – On playing well at home.  Does he think about what the MTS Centre would be like for a playoff series?  What might another addition do for this team?  Are the additions a vote of confidence in the team?  On the draft and develop model.
Blake Wheeler – On how he is feeling. Is he expecting to be taken off IR? Does he feel 100%? How much of a factor was the swelling? Does he feel a lot better? Can he keep up to Thorburn? Tough to miss games? On the preparation for the Kings.
Audio courtesy of TSN 1290 Winnipeg.