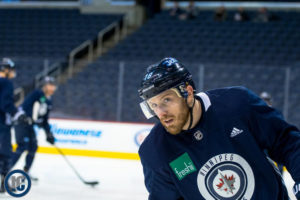 The Jets are back on the ice today following last night's 5-2 loss to the Blues.  They now prepare to face a New York Rangers team that won't have familiar face Ondrej Pavelec in the lineup as he left their last game with a lower-body injury.
Practice Notes:
Matt Hendricks was back on the ice in a yellow non-contact jersey according to Brian Munz of TSN 1290 Winnipeg and the below lineup also comes via Brian.
Lines, D pairs & goalies:
Perreault-Scheifele-Wheeler
Laine-Little-Ehlers
Connor-Copp-Armia
Dano-Petan-Roslovic
Morrissey-Myers
Enstrom-Byfuglien
Chiarot-Kulikov
Hellebuyck
Comrie
Health Update:
Coach Maurice indicated that Matt Hendricks "Had a really, really good day today and he went hard today so we will see how he is tomorrow, we'll talk to the trainers and see how they feel about it.  If he is able to perform the way he performed today and he feels confident, he's a possible for tomorrow."  Brendan Lemieux was listed as injured for the last game and coach offered a bit more clarity "Lower-body.  Happened in the game.  Came out and skated the next day, didn't get a whole lot better.  We're just keeping him off until he can get back on."  Sounds a bit more ominous for Adam Lowry who hasn't skated the last couple of days according to the Jets bench boss and when asked if he has any idea when Lowry will be back on indicated "no".
Audio:
Nikolaj Ehlers
Matt Hendricks
Connor Hellebuyck
Dustin Byfuglien
Coach Maurice:  On swapping Perreault/Laine.  Update on Matt Hendricks.  How does he know when a goalie needs a break?  On figuring out the optimal number of games for Hellebuyck this season?  Does he have to tell the players to "go easier" on Hellebuyck in practice?  How does he guard against stifling creativity with Ehlers/Laine?  When games get tighter what can players do to use their speed?  What have been keys to getting back after a loss?  Are the Rangers more dangerous when they are declared sellers?  Status of Brendan Lemieux?  Update on Lowry?
Audio courtesy of TSN 1290 Winnipeg.