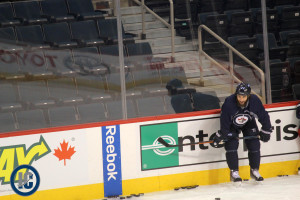 The Jets are on the ice as they get ready to leave for their final two game road trip of the season.  Plenty of buzz for new call ups with Jack Roslovic and Kyle Connor recalled today although according to Ted Wyman of the Winnipeg Sun here are the lines at practice and they may just be observing for the first few days:
Ehlers-Scheifele-Wheeler
Perreault-Little-Laine
Copp-Lowry-Armia
Tanev-Petan-Thorburn
Connor-Roslovic-Dano
Audio:
Blake Wheeler:  The final few games.  Finishing off the season the right way the last few years.  On the players playing with a lot of pride.
Jack Roslovic:  Surprised to get the call?  What does he expect this week?  Is he expecting to play?  How/when did he find out?  What was the first thing that went through his mind?  How many tickets would he need if he plays in Columbus?  What would it be like to play at home?  Thoughts on his season with the Moose?  Was he wondering if the call would ever come?
Kyle Connor:  What was it like to get the call?  Was he wondering if the call would ever come?  Where has he improved the most with the Moose?  Was the second half of the season what he was hoping for the entire season?  Is confidence everything when you are trying to climb the ladder?  With his previous experience with the Jets, makes it a little easier.  How different is his game from game 1 of the Jets season?
Coach Maurcie:  What went into the decision to call up Connor and Roslovic and what is the plan? What does he expect to see from them this week? What has he heard about the improvements they have made to their games? How does he work them both into the lineup? Would he play them together? On the good record the Jets have once they've been eliminated, can he put a finger on it? Where would you slot Connor/Roslovic when you look at his top six? On Laine slowing down of late. What has he liked the most about Laine's progress this season? Update on Myers?
Audio courtesy of TSN 1290 Winnipeg