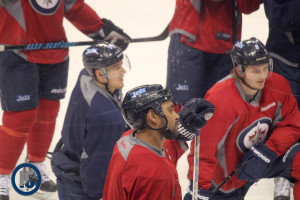 Via Sara Orlesky of TSN here are the lines, D pairs and goalies on the ice at MTS Centre:
Copp-Scheifele-Wheeler
Ehlers-Little-Laine
Matthias-Lowry-Armia
Perreault-Petan-Stafford
Enstrom Byfuglien
Morrissey Trouba
Stuart Postma
Melchiori Chiarot
Hellebuyck
Hutchinson
Audio:
Blake Wheeler:  On why the Jets have played the Hawks so well.  On how the Jets have handled Chicago so well in the Winnipeg zone.  Has he noticed much frustration from Chicago's inability to beat the Jets?  Where does he feel the team is at with 26 games left?  What has he seen from Hellebuyck during the past few weeks?
Connor Hellebuyck:  Does the success he has had against Chicago give him extra confidence?  What has he noticed the Jets have been able to do against the Hawks?  On what he has been able to gain the past couple of weeks.  On the grind of the season.  What benefits are there to be gained from watching games?  What specifically has he been working on?  Does he look forward to facing the Hawks firepower?
Coach Maurice:  Injury news.  How have they been so successful against Chicago?  Why are they incapable of mustering that same respect against other teams?  His thought process in putting Byfuglien/Enstrom back together.  Has Enstrom altered his game in the last two/three months?  On the new goalie equipment.  What kind of differences has he seen from Hellebuyck in the past couple of weeks?  Has the change in D pairings been done to help the goalie?  Was he surprised that Pavelec pulled himself?  Would he play Chiarot if he is healthy?  Thoughts on Melchiori.  On the Jets third pairing.  Does he need to see more from the 3rd pairing?