Jets news:
Winnipeg Free Press:  Buff still prefers 'D' job.  He couldn't have been clearer when asked if he expected to start next season as a forward and his response was "I hope not".  He did later qualify it saying he will play wherever they put him but it is clear where he would prefer to be.

Winnipeg Free Press:  Handful of Jets possible for Worlds.  Seemed like the only two who were considering it are Trouba and Jokinen.
Winnipeg Free Press:  Coach not ready to judge besieged Pavelec just yet.  Much to the chagrin of the segment of the base who want him bought out.
Winnipeg Free Press:  Maurice seems like lock for permanent coach's job.  When the captain says "I want him back as coach" and many other players echoed these sentiments it is clear what the players want.  The Jets bench boss revealed that we should have an answer mid week.
Winnipeg Free Press:  Exit meetings could be final goodbyes.  Some of the UFAs were unequivocal when asked if they would like to be back next season.  Players like Montoya, Jokinen Thorburn indicated they would like to continue playing here.
Winnipeg Free Press:  A question of accountability.  It was a word spoken by numerous players as well as the coach yesterday.  Coach Maurice indicated that if he returns as bench boss next season all players will know exactly what is required of them.  The players used it in reference to each other and the expectations of the group moving forward.
Winnipeg Sun: Byfuglien to stay at forward.  While the big man indicated his preference to go back to playing defence, the coach was pretty firm when asked where he would play Byfuglien next season "Dustin will be starting at forward".  Should be interesting to see what happens here.
Winnipeg Sun:  No easy decision.  It is clear the current bench boss of the Jets loves being the coach here in Winnipeg.  It is simply a question of whether or not he can move his family from Ohio to Manitoba.
Winnipeg Sun:  'I want to be coaching the Winnipeg Jets'.  Pretty strong words coach Maurice used to end his media scrum yesterday.
IceCaps news:
The Telegram:  Reinforced IceCaps get revenge on Wolfpack.  The return of the core group of IceCaps back from their stint in the NHL has served the Jets farm team well and should really help with the postseason push.
Winnipeg Jets End of Seasons Interviews:
Coach Maurice click here.
Al Montoya click here.
Devin Setoguchi click here.
Mark Scheifele click here.
Zach Bogosian click here.
Chris Thorburn click here.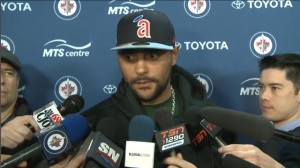 Dustin Byfuglien click here.
Andrew Ladd click here.
Blake Wheeler click here.
Ondrej Pavelec click here.
Jacob Trouba click here.
Evander Kane click here.
Grant Clitsome click here.
Olli Jokinen click here.