Note:  The Illegal Curve Hockey Show kicks off game day coverage on TSN 1290 Winnipeg.  However due to it being a late game the show is kicking off at 3 pm instead of our usual noon start time.  Plenty to discuss from around the NHL including a look ahead at tonight's game against the Kings.  Guests:  Jim Fox (Kings broadcaster on Fox Sports West/Prime Ticket) and Nelson Emerson (Kings Player Development Department).
Note II: Following today's Jets Papers, you can ensure you are up to speed with our game set-up written by Ezra Ginsburg and pre-game audio from coach Maurice.  After the game, be sure to check us out for all the post-game reaction. As soon as the site is updated we notify you via twitter @illegalcurve and Facebook.
Note III: For away games we have our #ICGWG. Make sure to @ tweet @illegalcurve with your guess. Remember that for your vote to qualify you must send in your guess using a hashtag (#). (i.e. #ICGWG Wheeler).
Jets news:
Winnipeg Free Press:  All work and no playoffs.  Coach Maurice may still be talking making the playoffs as his number one priority but it is clear that he is truly trying to build a foundation of consistent play that will be his template for next season (regardless of whether he signs or not).
Winnipeg Free Press:  D-man's dream gains steam.  Speculation continues to abound regarding the about abilities the young prospect drafted 13th overall in 2013.  Morrissey's with the IceCaps for the stretch run on Monday.

Winnipeg Free Press:  Never a dull moment.  Plenty of drama-rama as fans see another season coming to an end.  Gary covers the latest in this column including; Wheeler's a wheel, Al's audition, baby shower, No pop for Kane, Maurice's man camp and playing spoiler.
Winnipeg Sun:  Jets have been hot on California ice.   It would be quite impressive if the Jets can knock off the Kings tonight.  Article also covers Montoya flying out of the net and some injury updates.
Winnipeg Sun:   Bryan Little prefers low-key.  He is quite unassuming off the ice but his on ice consistency  pretty much does all the speaking he needs.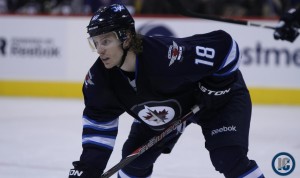 Winnipeg Sun:  Jets look to take down Kings in Los Angeles.  Making the first visit to L.A. since their return to Winnipeg the Jets are looking to do some damage tonight in Cali.
DaveArt.com: Ondrej Pavelec's new mask. Check out the new mask that Ondrej Pavelec will be modeling. The link provides some insight into the design of the mask which according to the designer is "a salute to the Royal Canadian Airforce". (h/t Sweech).

TSN 1290 Winnipeg:  Rona Roundtable (audio).  LA Kings Insider Jon Rosen joins Rick Ralph to preview the game.
Illegal Curve:  Coach Maurice post-practice scrum (audio).  Will Ondrej Pavelec play tomm?  Would he back up if he doesn't start?  His thoughts on Al Montoya's six games in a row.  Did his effort get overlooked in last night's game?  His re-assessment of the game a day removed.  Using this stretch for next season?  Is he working as if he is here for next season?  Will he put Setoguchi back in tomm?  What has he learned about Bryan Little?
Kings news:
L.A. Times:  Kings are comfortable in close games.  If any team can empathize with playing in close games it is the Winnipeg Jets who have played in plenty this season.  Also talks about the special teams play and the non-goal call.
IceCaps news:
The Telegram:  IceCaps can't hold third-period lead for a second straight game.  Considering how solid they have been the last couple of months this seems like a small hiccup as they prepare for the playoffs.
The Telegram:  Jaffray is well-healed.  Quite remarkable considering where the captain was a couple of years back and where he is today.