Note: Following today's Jets Papers, you can ensure you are up to speed with our game set-up written by Ezra Ginsburg.  After the game, be sure to check us out for all the post-game reaction. As soon as the site is updated we notify you via twitter @illegalcurve and Facebook.
Note II: For home games we have both our #ICGWG and #IC5050 contests. Make sure to @ tweet @illegalcurve with your guess. Remember that for your vote to qualify you must send in your guess using a hashtag (#). (i.e. #ICGWG Frolik & #IC5050 $55,500.00).  Reminder that tonight the Jets are Sweetening the Pot as the 5050 starts at $40,000.00 (Hint:  Increase your usual guess by 20K).
Jets news:
Winnipeg Free Press:  Penalties trying coach's patience.  Certain penalties you will happily take, such as those which prevent a great goal scoring opportunity.  It is the lazy ones that are driving coach Maurice nuts.
Winnipeg Free Press:  There's no magic in major makeover.  It is the reason why we have an IceCaps news as part of your daily shot of Jets news.  This is so you can see what is on the way up as the prospects continue to develop in St. John's.  Gary's article talks about the depth of this organization.
Winnipeg Free Press:  Jets' effective penalty kill (video).  J.P has his white board out and diagrams what the Jets have been doing right on their PK.
Winnipeg Free Press:  Schedule gets tough for Jets with next four games against playoff teams.  If you want to be a playoff team you have to be able to knock off the big boys.
Winnipeg Sun:  Expect Winnipeg Jets to do what it takes to keep coach Paul Maurice.  You could hear it from the Jets bench boss that he wasn't impressed with his former panel employees at TSN at the assertion that he wouldn't be returning to Winnipeg next season.
Winnipeg Sun:  'We're still in this' says Ladd.  The captain is absolutely right.  You are not officially eliminated until the math says otherwise.  Right now it doesn't so there is no point in taking a defeatist attitude.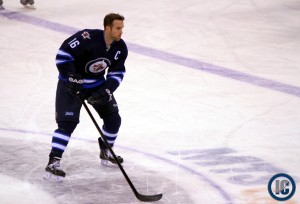 TSN 1290 Winnipeg:  Rona Roundtable (audio).  Mike Kelly from the NHL Network joined Rick at his roundtable and they crunched the numbers for the Jets to make the playoffs.
CBC:  Mark Scheifele talks concussions (video).  Scheifele talks about his own experience with concussions during an announcement of a new program to treat children concussions in Manitoba.
Illegal Curve:  Coach Maurice scrum (audio).  Playing to win rather than playing not to lose.  Ensuring team is not overwhelmed.  Team still playing within his structure?  Frustration with the officiating.  Team more reckless?  TSN panel suggestion that he isn't returning.  Looking at this team, can you tell which players who have and have not made the playoffs?  Frustration in being "only a few inches away".
Rangers news:
New York Daily News:  Rangers fall to Wild as start of Martin St. Louis era remains in neutral.  Sounds like it was a frustrating night for the Blueshirts in Minnesota last night.
IceCaps news:
TSN 1290 Winnipeg:  Rona Roundtable (audio).  St. John's head coach Keith McCambridge joined Rick to talk about how his team has put together nine straight wins during this record streak.  If you are curious about the prospects give this a listen.
NHL Mid-Week:
Replay:  Jets lose 3-2 in a shootout to Vancouver.  Interview with Andrew Gross, New York Rangers beat writer for The Record Newspaper in New Jersey.  Jets-New York Rangers Preview.  NHL General Managers Meet in Florida.   Six Things We Learned This Week.  Interview with Mike Colligan, hockeywriters.com & NHL analyst at Forbes SportsMoney.  Who is Better the 2011-12 Stanley Cup Champion LA Kings, or the 2013-14 LA Kings.  New Studio Hosts for Rogers Hockey Coverage are unveiled.