Jets news:
Winnipeg Free Press:  Goalie conundrum continues.  Who would you like to see in net?  Is the problem goaltending right now?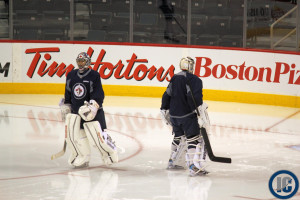 Winnipeg Sun:  Jets can't find penalty shot success.  Similar to a lack of a Jets 2.0 hat trick scoring on a penalty shot remains an achievement not yet accomplished for this team.  Which do you think you will see first?
Winnipeg Sun:  Jets lose fourth straight.  A tough game in Denver and while the team is happy to have at least one point they know how big an opportunity they gave up not coming home with two points.
Winnipeg Sun:  Jets fans go too far with abuse of 11-year-old in Tavares jersey.  Unfortunately there are always going to be idiots who take sports too far.
Avalanche 3 Jets 2 in OT:
Coach Maurice post-game.  Audio from the coach following the game against the Avalanche.
Jets on a Deadline.  Game recaps, post-game audio, video highlights and the NHL.com 3 Stars of the night.