Note: Following today's Jets Papers, you can ensure you are up to speed with our game set-up written by Ezra Ginsburg.  After the game, be sure to check us out for all the post-game reaction. As soon as the site is updated we notify you via twitter @illegalcurve and Facebook.
Note II: For home games we have both our #ICGWG and #IC5050 contests. Make sure to @ tweet @illegalcurve with your guess. Remember that for your vote to qualify you must send in your guess using a hashtag (#). (i.e. #ICGWG Little& #IC5050 $36,500.00).
Jets news:
Winnipeg Free Press:  Playoff-tested Kings stiff challenge for Winnipeg.  If the Jets are going to make the playoffs they are going to have to earn it.  Won't be many "easy" games down the stretch and tonight is certainly not going to be a light opponent.
Winnipeg Free Press:  Jets won't call on Burmistrov.  Not forgotten by everyone.  Plenty of people still reference the centre as a possible aid to the Jets need for help at that position.  Article also discusses the suddenly crowded sick bay, Setoguchi's quick escape, Jokinen not stressed and the Jets iron men.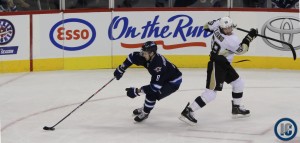 Winnipeg Free Press:  Time wasn't right for Chevy to deal high-end prospects.  It most certainly was not.  This team isn't a move away from being a serious contender in the West.  No point in mortgaging the future at this point.
Winnipeg Free Press:  Scheifele injury jolts Jets.  The importance of the Jets rookie to this team is huge and it was clear that everyone on this team recognizes his importance to the team.
Winnipeg Free Press:  Sticking to the game plan. Taking a look at the short and somewhat sparse history of the Jets deadline moves.
Winnipeg Free Press:  A history of silence.  Which the Jets GM would tell you is in keeping with his long term vision for his team.
Winnipeg Sun:  Ken's Notebook.  In today's peek inside, Ken talks trade deadline, Stuart signing extension with Jets and the Scheifele injury.
Winnipeg Sun:  Stay-at-home defenceman.  Some were surprised by the length of term (four years) but many were happy to see the well liked D-man retained by the club.

Winnipeg Sun:  Centre of attention.  It is a position that the Jets really have no depth and one they could ill afford an injury but it happened and now they are forced to make due.
Winnipeg Sun:  Sink or swim.  Paul argues that yesterday was a missed opportunity for the GM to help get this team over the hump and truly into the playoff race.  Would you have preferred to see the Jets sell off future assets for the chance to win now?
Illegal Curve:  GM Cheveldayof presser.  If you missed it we have the entire 20 minute presser on site.  Topics ranged from the Mark Stuart contract to all the trade opportunities.
Illegal Curve:  Coach Maurce scrum.  Initial thoughts on Trade deadline day.  His thoughts on Scheifele ("not going to be any surgery required").  What is the official diagnosis?  (MCL Sprain).  What type of hole does that leave in this lineup?  Will they look to bring someone up for tomorrow's game?  If things remain status quo what ripple effect does Scheifele injury have on team?  Update on Thorburn ("day to day, questionable for tomorrow").  How do you manage the emotion of the team when you lose an important player like Scheifele?  Had a similar scenario like this before in his career?  How can his leadership help team get over a game like last night.  Time line on Scheifele's injury?  Thoughts on Halischuk's first game back.
IceCaps news:
The Telegram:  IceCaps untouched after NHL trade day.  The team is hot right now (6-0-0-1) and challenging in the East so they have to be happy they weren't pillaged by the parent club.
NHL Mid-Week:
Replay:  Vancouver Canucks sinking ship, Winnipeg Jets make no moves at the deadline.  Winnipeg Jets re-sign Mark Stuart.  Central Division Trade Deadline Recap.  Interview with Jim Jamieson of the Vancouver Province.  Interview with Pat Hickey of the Montreal Gazette.  Florida Panthers acquire Roberto Luongo and the mess that is the Vancouver Canucks.  Tampa Bay Lightning trade Martin St. Louis to the New York Rangers.  Penguins and Kings deadline deals.