Note: Following today's Jets Papers, you can ensure you are up to speed with our game set-up written by Ezra Ginsburg.  After the game, be sure to check us out for all the post-game reaction. As soon as the site is updated we notify you via twitter @illegalcurve and Facebook.
Note II: For home games we have both our #ICGWG and #IC5050 contests. Make sure to @ tweet @illegalcurve with your guess. Remember that for your vote to qualify you must send in your guess using a hashtag (#). (i.e. #ICGWG Ladd & #IC5050 $42,500.00).
Jets news:
Winnipeg Free Press:  What's next in Jetsville?  Ed looks at ten questions that need answering as we officially kick off the last 22 games of the season.
Winnipeg Free Press:  Pushing for the post-season.  While their recent success has been nice to energize the fan base this team still has a mountain to climb before they reach the promised land.
Winnipeg Sun:  Jokinen still savouring bronze medal.  He has been all smiles since Team Finland knocked off Team USA and with good reason.  He said he could play four or five more years (including another Olympics potentially) but will it be with the Winnipeg Jets or will he be dealt?  What would you like to see?
Winnipeg Sun:  Jets tired of missing NHL post-season.  Fact is this team has not had the type of success that they expect of themselves and we are about to see what this team is made of.  Will they have the fortitude to rip off enough wins to get them over the hump?
Winnipeg Sun:  Spotlight about to shine brighter on Jets goalies.  The pressure is on and any failing is going to be seized upon by a base that is less than pleased with the #1 goalie in-between the pipes.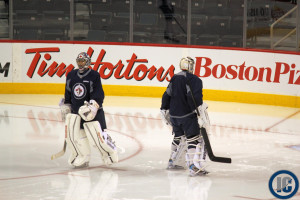 Winnipeg Sun:  Jetstream blog.  Ken emptied his notebook as the last part of the season gets underway.  Plenty to read in this post.
Globe and Mail:  Youngsters Trouba and Schiefele show maturity as Jets enter playoff push.  Neither of these two are playing like rookies and both are going to be relied upon heavily as the team tries to push towards a playoff spot.
Illegal Curve:  Coach Maurice scrum (audio).  What is he hoping Evander Kane can do for this club?  His thoughts on his goalies.  Expect to ride one down the stretch?  Expecting too much from the goalies?  What would be like his roster post trade deadline to look like?  One game at a time mentality now?  His expectation of his team tomorrow night against Phoenix.  Having a bunch of home games left.  What does he expect from his rookies as season winds down?  How does he breakdown the season?  Can he get the positive experience for Jokinen to rub off on his team?  Trade deadline talk.
Coyotes news:
Arizona News:  Major deal unlikely for Phoenix Coyotes' playoff push.  With less than a week to go before the deadline and with so many teams on the cusp a playoff spot it should be interesting to see what teams do.  Appears Coyotes won't be making any big moves which is usually the smart choice at the deadline.
NHL Mid-Week:

Replay:  Canada/Sweden Gold Medal game recap, Olympic Hockey Tournament recap.  Who's legacy improves with Canada's Gold Medal Victory?  Interview with Corey Masisak, NHL.com.  Six Things We Learned from the Olympic Hockey Tournament.  Interview with Tyson Nash, Phoenix Coyotes Analyst.  Winnipeg Jets playoff push/analysis.  Western Conference playoff push.  Trade notes around the NHL.