Jets news:
Winnipeg Free Press:  Young players fuel Jets' upswing.  Hard not to get excited when you  see the progression of young guns like Scheifele and Trouba.

Winnipeg Free Press:  Maurice happy with Jets' playing despite recent loss.  You definitely get the sense that coach Maurice isn't changing his outlook.  He speaks with a confidence that suggest this is all part of his master plan.
Winnipeg Sun:  Can't pin problem on Pavelec.  It wasn't a stellar performance on Tuesday night.  However coach Maurice still was backing his #1 netminder on Wednesday although with the caveat that there is an expectation that his next performance, much like the team's, will have to be better.
Winnipeg Sun:  Jets taking loss to Predators in stride.  A number of players took time off yesterday choosing to work out off ice.  Postma will be heading to St. John's to get in some AHL action.  Kirk finishes off the column with a few more notes about the procedure to clean up Kane's hand and a missing Devin Setoguchi.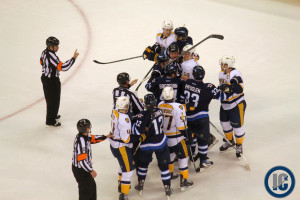 Winnipeg Sun:  Jets able to bounce back better under Maurice.  There is no question that while the team isn't always playing the best hockey they are able to bounce back.  Case in point the two quick goals that tied the game 3-3 against the Predators on Tuesday.
Globe and Mail:  Jets back in Central Division cellar but not losing confidence.  While the Jets will certainly not win every remaining game in the season they can ill afford to lose too many.
CBC:  HNIC Radio – Paul Maurice getting to know his Jets (audio).  Coach Maurice chatted with hosts Rob Pizzo and Kelly Hrudey on Hockey Night in Canada Radio on SiriusXM.
TSN 1290 Winnipeg:  Rona Roundtable (audio).  J.P. Vigier speaks to Rick Ralph on development of Scheifele and Trouba.
Illegal Curve:  Paul Maurice scrum.  The team's defensive zone concept.  On Pavelec's play.  Letdown game last night?  Does having a young team alter his coaching?  Olympic break fitness talk.  Concern with those players being overworked.  Update on Paul Postma and Zach Redmond.  Why not go back to Al Montoya?
NHL Mid-Week:
Replay:  Interview with Arthur Staple from the NHL Stadium Series game at Yankee Stadium.  Jets lose 4-3 to the Nashville Predators.  Evander Kane to miss the final six games before the Olympic break due to a hand infection.  Jets-Canucks preview.  Six Things We Learned This Week.  Sharks vs. Blues – who's better?  NHL News & Notes.