Note:  The Jets and Leafs play at MTS Centre tonight at 6pm so be sure to kick-off your pre-game coverage with the Illegal Curve Hockey Show.  The show kicks off at noon (CST) until 3 pm on TSN 1290 Winnipeg.  Guests:  Michael Traikos (National Post), Scott Powers (ESPN Chicago) and Tom Lynn/Kyle Kosior (Veritas Hockey).
Jets news:
Winnipeg Free Press:  Dynamic duo.  Both Mark Scheifele and Jacob Trouba have thrust themselves into the Calder conversation with their strong play this season.  TSN Hockey Insider Darren Dreger even took to twitter to tweet about Trouba yesterday saying "The more I watch Jacob Trouba, the more convinced I am he's a strong Calder contender. 20+ mins in 25 of 35 games played. Turns 20 in Feb".

Winnipeg Free Press:  Jets better even when losing.  Many pundits marveled following the loss at the complete game this team had played.  It isn't often that folks around here are talking positively about a loss and that was certainly the case after a tough, but well played game against the Sharks.
Winnipeg Free Press:  Re-energized Jets flying high.  We are going to be hearing the phrase 'compete level' for the next bit and it is evident that the Jets have raised it up a notch or two under their new head coach.
Winnipeg Free Press:  Defensive back-pressure.  J.P. Vigier is at the whiteboard again and this time he is drawing up a play that occurred in the Jets win over the Ducks.
Winnipeg Free Press:  Jets this week with Ed and Gary (video).  Ed Tait and Gary Lawless comment how the Jets are buying in so far with a 4-1 record under head coach Paul Maurice, Byfuglien's future on the wing and what moves (if any) Cheveldayoff should make before the trade deadline.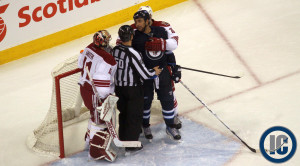 Winnipeg Sun:  Jets find winning pair.  The two have a familiarity that dates back quite awhile so there is an advantage in that comfort.  Ken also looks at the hit on Trouba and the question as to which goalie plays in which game this weekend.
Winnipeg Sun:  Maurice has Jets on right road.  While everything seems rosy right now the Jets are still pretty high off the 'newness' of the coaching change.  Will be interested to see where this team is in a few more weeks.
Leafs news:
National Post:  Leafs getting used to walking tightropes.  Winning one goal games seems to be in Toronto's favour writes Michael Traikos who will be on today's show to discuss the Leafs play this season.
Globe and Mail:  Maple Leafs' goalies beginning to look human.  This team has been especially reliant on its goalies this season so if one or both have off nights it is going to be quite a long evening.
Toronto Sun:  Defenceman Paul Ranger playing catch-up after being out of the game.  When you take time away from the game it isn't easy to just pick up and get back into it but the Ontario native is looking for his opportunity to get into the lineup.
Toronto Star:  Maple Leafs look to end Western swing on high note.  When fans looked at the four games on the Jets schedule (Ducks, Sharks, Leafs and Hawks) in this segment this was likely seen as the "easy" one.  However this Leafs team won six straight games before Wednesday's 7-1 shellacking at the hands of the Dallas Stars.  Expect them to play with some serious bite today.
IceCaps news:
TSN:  Samson scores twice as IceCaps edge Bruins.  While the spectre of the move to Thunder Bay lingers the team won their second game in a row and first of the next five they play on the road.