Note: Following today's Jets Papers, you can ensure you are up to speed with our game set-up written by Ezra Ginsburg. Keep it locked to the site to get pre-game audio from the players and coach Noel. After the game, be sure to check us out for all the post-game reaction. As soon as the site is updated we notify you via twitter @illegalcurve and Facebook.
Note II: For home games we have both our #ICGWG and #IC5050 contests. Make sure to @ tweet @illegalcurve with your guess. Remember that for your vote to qualify you must send in your guess using a hashtag (#). (i.e. #ICGWG Kane & #IC5050 $45,500.00).
Note III:  Not sure what tonight's promo is but the Sabres & Jets game is a designated promo evening.
Jets news:
Winnipeg Free Press:  Penguins want Jet fuel.  Is anyone surprised that there might be interest in three of the Jets top players?  Will GM Cheveldayoff pull the trigger to build for the future is the question.
Winnipeg Free Press:  Montoya still quietly content being No. 2.  Montoya is never going to admit that he wants to be the #1 goalie for the Winnipeg Jets.  That would be admitting that he wants a teammates job.  So instead he is saying the right things while he continues to put up impressive numbers.
Winnipeg Free Press:  First 41 go slip-sliding' away.  And just like that we have hit the mid way point of the season.
Winnipeg Sun:  Like their fans, Jets spinning their wheels.  Paul certainly doesn't have his rose coloured zoomies on while he looks back at the first half of the season.  What about you?  How are you seeing this part of the season?  What do you see when you look with your zoomies?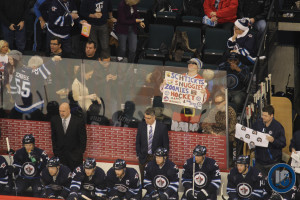 Winnipeg Sun:  Few overachievers wearing Jets colours at halfway mark of season.  Hard to argue with Ken's mid season assessment of this team.  What say you?
Winnipeg Sun:  Pavelec staying sharp, waiting for chance to get back between pipes.  A lot more scrutiny on the Jets goalie right now.  He is saying the right things but we will have to see what happens in the coming days.
Winnipeg Sun:  Noel won't say if Montoya is his goalie against Buffalo.  What would you do?  Go with your hot hand or go back to your declared #1 goalie?
CBC:  In the Room – Jacob Trouba (video).  Mitch Peacock talks with Jets' defenceman Jacob Trouba to talk Michigan and hockey ahead of the Winter Classic.
Denver Post:  Patrick Roy said his goalie should be "flattered" by Dustin Byfuglien cheap shot(s).  A mid afternoon post from yesterday but it appears that #BuffsCuffs are still resonating in Colorado a day later.  Read what the Avs coach and his players said about the love taps Big Buff laid down.
Illegal Curve:  Nic Petan signed to a three-year, two-way, entry level contract.  A nice reward after scoring the game winning and empty net goals in Canada's win over Slovakia in the World Junior Tournament yesterday.
Illegal Curve:  Coach Noel scrum.  Goalie talk.  More strain on Pavelec. Guys taking maintenance days.  Building on last two games.  Describing first half of the season.  Trusting in his instincts.
Illegal Curve:  'Sweeten the Pot' for 50/50.  While winning a toque in our contest is fun if you find yourself inside the MTS Centre tonight you may want to purchase a 5050 ticket for your chance to win the increased jackpot.
Sabres news:
Winnipeg Free Press:  Miller has been one of Sabres' few highlights.  He has turned things around this season and got himself onto Team USA for Sochi as a result.  Will he finish the season as a Sabre is another question entirely.
Buffalo News:  Depressing cloud over Sabres is clearing.  I'm glad to read that coach Nolan is having a positive impact in Buffalo.