Note: Following today's Jets Papers, you can ensure you are up to speed with our game set-up written by Ezra Ginsburg.  Keep it locked to the site to get pre-game audio from the players and coach Noel.  After the game, be sure to check us out for all the post-game reaction. As soon as the site is updated we notify you via twitter @illegalcurve and Facebook.
Note II: For home games we have both our #ICGWG and #IC5050 contests. Make sure to @ tweet @illegalcurve with your guess. Remember that for your vote to qualify you must send in your guess using a hashtag (#). (i.e. #ICGWG Setoguchi & #IC5050 $34,575.00).
Jets news:
Winnipeg Free Press: Salary cap is rising, Jets OK with it.  Despite the outside view that Winnipeg will be a bottom spending team, the ownership group says that they will be able to play with the big boys when it comes to an increased salary cap.
Winnipeg Free Press:  Winnipeg lands Heritage Classic.  This is great news although perhaps we can host it in October.  Not sure my laptop will survive being outside in January.  Doing it in the team's fifth year would be a nice time to add a jersey.
Winnipeg Free Press:  Bruising forward fitting in fine in move up from fourth line.  Thorburn is showing that he is more than simply a one dimensional player who can only be used in a limited role to punch faces.  While he is certainly not a suitable replacement for Evander Kane long term he is justifying coach Noel's faith in the veteran.
Winnipeg Free Press:  Jets right-winger heating up, on and off the ice.  A little snark in his on ice game from the usually jovial Wheeler isn't such a bad thing.
Winnipeg Free Press:  Living a dream come true.  She has done a great job as anthem singer.
Winnipeg Sun:  Scheifele staying on an even keel.  The 2011 1st round draft pick who has refused to really accept any kudos for his OT winner, instead heaping praise on Blake Wheeler's pass.  The entire season he has displayed a team first mentality that hasn't gone unnoticed by this team.
Winnipeg Free Press:  Jets need a big week, starting today.  What team shows up tonight against a very good and well coached Blues team?
Winnipeg Sun:  Jets tickets available at discount price.  Considering the small number of tickets available it isn't a huge concern for the team which has commitments staggered for the next few years.
Globe and Mail:  Underachieving Jets looking to make the most of homestand.  This is when the Jets have a chance to really show what they are made of when three division foes come to town this week.  At minimum they need two wins in three games and likely need all three to make any really push to get themselves into the conversation.
NHLPA site:  Slater is a jack of all trades.  While fans want to see the centre back in the lineup for right now you have to enjoy the Michigan native at your local workplace.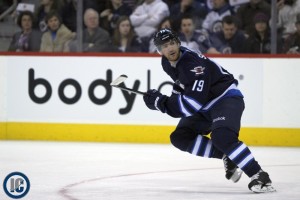 Illegal Curve:  Coach Noel post-practice scrum.  Update on Evander Kane (Won't be a player tomorrow).  Thoughts on Chris Thorburn filling in.  Is the team ready to face talented Western Conference teams?  His view of the road trip.  Has John Albert been a surprise (assessment of his play)?  Has the team grown in their understanding of what it takes to win on a consistent basis?  Learning to compete for a full 60 minutes.  What can he do to avoid first game back letdown (Classic response).  Update on Zach Bogosian (bump in the road).  Sitting 18th overall, too early to start to panic?  When he works with the veteran players does he also help them to grow as leaders or does he trust them to take it and run with it?
Illegal Curve:  Post-practice player audio.  Listen to Jacob Trouba, Mark Scheifele and captain Andrew Ladd discuss the road trip and the week ahead.
Blues news:
St. Louis Post-Dispatch:  Blues use progression drills to discover checking game.  Never one to be satisfied, coach Hitchcock adds some grit to his team's practice.
St. Louis Post-Dispatch:  Top line is looking to regain its rhythm.  Jets fans had best hope they don't get back their scoring touch tonight at the MTS Centre.