Note:  Keep it locked to the site to get pre-game audio from coach Noel. After the game, be sure to check us out for all the post-game reaction. As soon as the site is updated we notify you via twitter @illegalcurve and Facebook.
Note II: For away games we have our #ICGWG contest. Make sure to @ tweet @illegalcurve with your guess. Remember that for your vote to qualify you must send in your guess using a hashtag (#). (i.e. #ICGWG Ladd).
Note III:  Tune into the Illegal Curve Hockey Show today on TSN 1290 Winnipeg from noon until 3 pm which will be live on location at St. Vital Mall.  The guys have an action packed show including a look ahead to the game today against the Lightning and all the rest of the news from across the NHL.  Guests:  Damian Cristodero (Tampa Bay Times), Marty Biron (TSN Analyst) and Pat Hickey (Montreal Gazette).
Jets news:
Winnipeg Free Press:  At least Jets' excuses consistent — and wearisome.  Does anyone feel like they are watching the movie Groundhog Day?
Winnipeg Free Press:  Jets' clique too soft on themselves.  Gary with a pretty stinging critique of the 'Atlanta Association' as he calls them.  What do you think?
Winnipeg Sun:  Need to rebound after letdown against Panthers.  The Jets have an opportunity to finish this six game road trip with a 4 and 2 record or if they haven't taken coach Noel's message to heart, could finish 3 and 3.  Big opportunity to end this two weeks on a positive note.
Winnipeg Sun:  Frolik feeling better.  Sounds like he had quite an eventful evening prior to the Panthers game.  Good to hear he is feeling more like himself.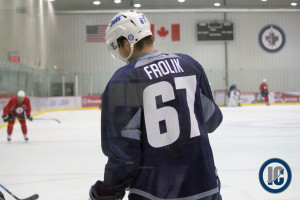 Winnipeg Free Press:  Kane back on ice but not ready to play yet.  Don't expect to see Kane tonight in Tampa after his less than full time on the ice at practice yesterday.
Illegal Curve:  Coach Noel post-practice scrum.  How is he doing today?  Evander Kane update.  Frolik's status.  Keys to parking last night's game.  Focus geared towards Tampa.  Thoughts on Jacob Trouba.
Illegal Curve:  Post-practice player audio.  Hear from Andrew Ladd, Mark Stuart and Michael Frolik.
IceCaps news:
The Telegram:  Klingberg scores twice as IceCaps shutout Penguins.  Looks like they are turning things on down on the farm.
Lightning news:
Tampa Bay Times:  Lightning turns injuries into opportunities.  If the Jets thought they had injuries they should see the Lightning list.