Note:  The Illegal Curve Radio Show will be live from the MTS Centre from 9 am to 12 pm cst.  Be sure to tune in.  As well for all the action from the Press Box as well as in the arena, be sure to be following @illegalcurve on twitter.
Note 2: Most importantly we want to hear from you guys. Whether that is in the form of comments on our site, @ tweets or by sending your pictures of the day to us (email: info@illegalcurve.com). Today is all about the fans and we want to see and hear how people are experiencing the day.
Winnipeg Free Press:  It is now time for winning to begin.   Fans will be patient this year but in the back of their minds, most are holding out hope for the post-season.
Winnipeg Free Press:  Dawn of a new Jets era.  It won't just be fans who will be soaking up every minute of atmosphere today.
CTV:  Jets play-by-play man debates first goal description.  I don't think fans are going to be too picky as to how the first goal is called, as long as they get to scream and cheer when it happens today.  Dennis Beyak will be joining the guys today on the Illegal Curve Radio show this morning at 11:45 am cst.
Winnipeg Free Press:  Great — the Jets are back.  Kives hits it on the head.  The Jets return is icing on the cake.  This city has been forced to deal with the stigma of losing the Jets 1.0 and that might have been the best thing that ever happened because it was a reality check, one that forced Winnipeggers to reevaluate and really changed the way we handled major events (removed apathy) and you can see many examples of that (Grey Cups, World Juniors, Pan Am Games, etc.)
ESPN:  Jets ready for official re-introduction.  Article with a good video of Jets goalie Chris Mason talking about what this game/team means to him.
NHL.com:  Jets captain carries some extra burdens.  The team did themselves a big favour when they signed the 25 year old to a long term contract.
Winnipeg Sun:  Memories of first game still fresh for Slater.  The Jets hope the 'Energy line' (Slater with Glass and Thorburn) can provide just what their name suggests for this team, and maybe some goals as well.

Winnipeg Sun:  Opener ranks high for Jets.  Glad to see that the Jets will be playing a tribute video for Rick Rypien and that his mother Shelly will be in attendance.
Winnipeg Free Press:  Jets tickets icing on the cake.  This is without question.  When we mentioned that Canadian Tire was giving away tickets to people who post on their Facebook, people reacted like crazy.  Offer Jets tickets and you are sure to get a major response.
Winnipeg Sun:  5 questions the rebooted Jets will look to answer.  If you know the answers to those 5 questions, you might be able to correctly determine if the Jets make the post-season or not.
Winnipeg Sun:  Scheifele sleepless in 'Peg.  If he manages to score the first goal in the re-born Jets history you can bet that the MTS Centre will break any sound records previously established.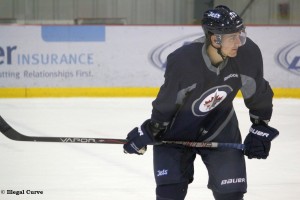 Winnipeg Sun:  Scalping laws outdated.  Brodbeck is right.  The laws could use some updating.  The other concerns folks had was this seems to be a bit of a waste of police resources.  It would appear they wanted to send a message and I'm guessing it will likely be last arrest for awhile.
Toronto Star:  Jets 2.0 ready for takeoff.  Cox labeling the return of hockey to Winnipeg as being the biggest moment for pro hockey since the Canadiens won in 1993 seems somewhat surprising given the luke warm response Winnipeg often gets from out East.
Winnipeg Sun:  History in the making.  I've been to Stanley Cup Finals, Grey Cups and the Russia/Canada Gold Medal World Junior game and none of those games will hold a candle to what I'm expecting to bear witness to today at the MTS Centre.
National Post:  Winnipeg exhilarating as Jets set for debut.  Bruce has some good insight into what this game means.  He will be joining the guys on the Illegal Curve Radio show this morning at 11:15 am cst.
Sportsnet:  Back in the spotlight.  Appropriate that all of this has happened during one of the greatest summers in recent Winnipeg history.  Manitobans aren't used to being the focus of so much attention but they have handled themselves well, living up to the 'Friendly Manitoba' moniker on our licence plates.