Note: Following today's Jets Papers, you can ensure you are up to speed with our game set-up written by Ezra Ginsburg. Keep it locked to the site to get pre game audio from coach Noel. After the game, be sure to check us out for all the post-game reaction. As soon as the site is updated we notify you via twitter @illegalcurve and Facebook.
Note II: For away games we have our #ICGWG contest. Make sure to @ tweet @illegalcurve with your guess. Remember that for your vote to qualify you must send in your guess using a hashtag (#). (i.e. #ICGWG Trouba).
Jets news:
Winnipeg Free Press:  Making it look easy.  He has been simply excellent each game he plays.  Amazing to think how many defecemen were chosen before him in 2012.
Winnipeg Sun:   Olli Jokinen back where he had his best seasons in NHL.  He is having quite the bounce back season in Winnipeg this year as the team returns to the place he fondly described yesterday as "home".

Winnipeg Sun:  Jets show newfound intensity in practice.  Last week following two wins coach Noel had to shut down practice because his team wasn't engaged enough.  Yesterday he also had to stop but that's because the team was really dialed in and it resulted in Mark Stuart and Anthony Peluso dropping their gloves but not throwing any punches.  Wonder which type of practice fans are happier to hear about.
CBC:  Jets pile on travel time in Western Conference.  Considering they are in sunny Florida and we just dug out from 15 cm of snow, a little travel isn't such a bad thing.
Illegal Curve: Coach Noel post-practice. Good practice today? His thoughts on confrontation between Stuart and Peluso. Was at game last night, what did he see from the Panthers? Complacency setting in when your record is 3 and 1 on the road trip? Different sort of road trip. Update on Evander Kane. Update on Zach Bogosian. More on Kane injury assessment. Who will his starting goalie be? (great response by coach Noel).
Illegal Curve: Post-practice player audio. Hear from Mark Stuart and Olli Jokinen.
Panthers news:
Florida Sun Sentinel:  Panthers' penalty-kill is killing them.  Have we got just what the doctor ordered for them.
NHL Mid-Week with Illegal Curve: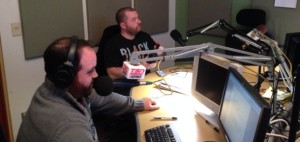 Replay:  Winnipeg Jets defeat the New York Rangers, play Florida on Thursday.  Henrik Lundqvist signs 7 year, $59.5 million contract extension with New York.  Interview with Harvey Fialkov of the Sun Sentinel.  Toronto Maple Leafs: real or frauds?  Interview with Craig Button, TSN Analyst.  6 Things We Learned This Week.  IC Article of the Week.  NHL News & Notes.