Note:  Stay tuned to Illegal Curve for all the latest audio from NYC today.
Note II:  Just wanted to thank everyone who supported the Illegal Curve Movember team.  Richard, Ezra and I have raised close to $3,000.00 (and still anticipate getting over that number once the last few donations are submitted).  We had a lot of fun growing our Mo's to raise funds and awareness about Men's physical and mental health.
Jets news:
Winnipeg Free Press:  Just a skate in the park.  Returning to their roots for a skate is a nice way to change things up.
Winnipeg Free Press:  'Thankful' Wheels hits 400.  He credited his ability to stay healthy as one of the reasons for being able to hit that lofty number and if you look at his games played going back to his rookie year with the Bruins he hasn't missed many games.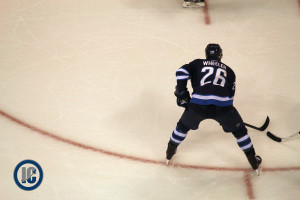 Winnipeg Sun:  Kane could be able to answer bell.  Not looking great as word out of NYC was he wasn't on the ice for practice this AM.  Stay tuned to IC for more.
Winnipeg Sun:  Jets take it outside for practice in NYC.  It was a unique setting for a practice.
Illegal Curve:  Coach Noel scrum from Central Park.  Practicing outdoors.  How is yesterday's game sitting with him now?  Being better for Monday.  Would he consider using Buff on the PP moving forward?  Update on severity of Kane's injury.  Some possibility that he could play Monday?  Thoughts on Jets PK.  Lineup changes?
IceCaps news:
The Telegram:  IceCaps come up with winning number at Bingo.  A solid road trip for St. John's, who won four of six, and were able to get into a shootout thanks to the hard work of Carl Klingberg.
NHL news:
CBC:  Daniel Alfredsson returns to Ottawa. Going to be an emotional night as the long time captain makes his first return to the city in which he had played his entire career.
NHL.com:  Don Cherry to Rogers: Leave 'Coach's Corner' alone.  Don was in fine form last night and Rogers would be well served to listen to the venerable Don of hockey in Canada.
Illegal Curve Hockey Show Replay:

Part 1:  Jets lose to the Flyers 2-1 / Jets week in review.  Jets week ahead (@NYR, @FLA, @TB).  Interview with Mike Colligan, NHL analyst at Forbes SportsMoney.  New tension reported by Bob McKenzie between the Jets & Evander Kane.  Interview with Ray Ferraro, TSN Hockey Analyst.  Interview with James Gordon, Ottawa Citizen.
Part 2:  More on New tension reported by Bob McKenzie between the Jets & Evander Kane.  Evaluating the Jets defense.  Olympic Roster compilation – talent vs. duos.  NHL News & Notes.  Rapid Fire.