Note: Following today's Jets Papers, you can ensure you are up to speed with our game set-up written by Ezra Ginsburg.  Throughout the day be sure to stick here as we will have post-practice audio from the players and coach Noel.  After the game, be sure to check us out for all the post-game reaction. As soon as the site is updated we notify you via twitter @illegalcurve and Facebook.
Note II: For away games we have our #ICGWG contest. Make sure to @ tweet @illegalcurve with your guess. Remember that for your vote to qualify you must send in your guess using a hashtag (#). (i.e. #ICGWG Wheeler).

Jets news:
Winnipeg Free Press:  Chevy says.  The Jets GM joined Gary and Hustler to discuss the stats of his team and topics included the team's start, development of Mark Scheifele, inconsistency of the squad, the power play as well as the team's battle level.
Winnipeg Free Press:  Power play a gunfight and the Jets bringing knives.  We shall see if the Jets learned anything at yesterday's practice which spent quite some time looking at the anemic PP.  The good news is the Blues are ranked 21st (78.4%) in the league in PK, so the Jets should be able to actually use the man advantage to their benefit.
Winnipeg Sun:  Finish all that matters for Jets' Setoguchi.  Ted covers the lack of finish, the play of Al Montoya and thoughts on Mark Scheifele.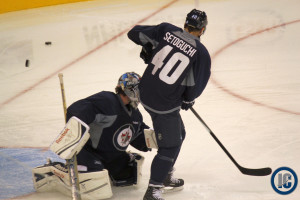 Winnipeg Sun:  Jets keep shooting themselves in foot.  The team has been consistently inconsistent which is causing all the joy to go out of coach Noel's joyland.  Can the guys can put together a consistent, 60 minute effort in which they follow the game plan set out by the bench boss?
Illegal Curve:  Coach Noel post-practice audio.  Update on his players.  What makes it a successful practice?  Trying something new on the power play?  More power play talk.
Illegal Curve:  Paul Postma audio.  Discussing the news about his blood clot.
AHL St. John's IceCaps news:
The Telegram:  IceCaps keep playing catch-up.  It is never a good idea to spot your opponent a couple of goals before you start to play yourself.
Jets next opponent (St. Louis Blues) news:
St. Louis Post-Dispatch:  Stewart returns to practice; Paajarvi is day to day.  Always be sure to read the latest from Jeremy who has his finger on the pulse of the Blues.
St. Louis Post-Dispatch:  Steen plays down early scoring success.  Winnipeg's own is having quite the start to the season.