Note: Following Jets Papers, you can ensure you are up to speed with our game preview written by Ezra Ginsburg. After the game, be sure to check us out for all the post-game reaction. As soon as the site is updated we post the news on twitter @illegalcurve and Facebook.
Note II: For away games we only have an #ICGWG contest. Make sure to @ tweet @illegalcurve with your guess. Remember that for your vote to qualify you must send in your guess by hashtaging (#) our Game Winning Goal (GWG) contest. (i.e. #ICGWG Wheeler).

Jets news:
In former Jets news, Kyle Wellwood has apparently retired from hockey.  He was playing in the Swiss league with EVZ and team beat writer Nicola Berger tweeted "Wellwood claimed, his heart wasn't in it anymore. Will fly home as early as tomorrow".
Winnipeg Free Press:  Jets faithful give rivalry extra oomph.  Manitobans from across the province will be heading South to St. Paul for the chance to support their team as we pit Friendly Manitoba vs. Minnesota Nice.
Winnipeg Sun:  Setoguchi fitting right in with Jets.  He seems like a perfect fit for the Jets 2nd line as they continue to develop a chemistry, which as Setoguchi himself has said, can sometimes take months.  Fans will have to hope that what has been seen early on this season will simply continue to progress.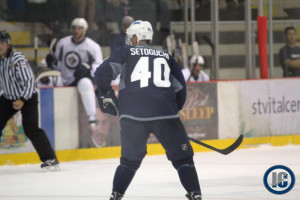 Winnipeg Sun:  Jets are Wild about potential new rivalry.  While coach Noel thinks it may be a creation of the media, I quite simply think that the rivalry is born from trips by Jets fans hungry to be able to watch and support their team in another team's rink "relatively" close to home.
Winnipeg Sun:  Halischuk stays ready for Jets' debut.  Halischuk seems like a perfect fit on the 4th line when the other team isn't dressing any bruisers.
USA Today:  Buff's stock is rising.  Each week Kevin Allen, who recently won the Lester Patrick Trophy (outstanding service to hockey in the United States) is analyzing how players are helping or hurting their Olympic changes.  Seems this week that the Jets Dustin Byfuglien has increased his value although the big question remains, how would he handle that bigger ice surface?
NHL.com:  On the 'D'-fence – Jets defenceman taking off.  Jets defenceman ranking are moving on up!
Illegal Curve:  Coach Noel presser.  Thoughts on the potential rivalry with Minnesota?  What has he seen from the Wild that he wants to focus on?  Does he sense an eagerness to learn from this squad?  Thoughts on Halischuk.  Any update on Thorburn (remains day to day, won't make trip).  Numbers game to get Halischuk into lineup?
Illegal Curve:  Player audio from IcePlex.  Hear from Montoya, Wheeler, Bogosian and Setoguchi.
IceCaps news:
The Telegram:  Pardy looking forward to chance to work close to home.  He has a good perspective and it sounds like he is going to be making the most of his opportunity to play a regular shift for the Caps.
Jets opposition (Minnesota Wild) news:
Minneapolis Star-Tribune:  With Wild still winless, Yeo makes some changes.  Minnesota is still looking for their first win of the season but they won't have #1 goalie Niklas Backstrom in net as he was injured in the loss to Nashville.  Instead they will face backup Josh Harding.
Winnipeg Free Press:  Parise vows to be 'much better' in 2013-14.  Along with that big contract comes big expectations and in Minnesota, regardless if you are the hometown kid, fans and ownership want to see team success to justify that contract.
NHL Mid-Week Replay:

Show Replay:  Jets vs. Wild preview.  Philadelphia Flyers fire Peter Laviolette, hire Craig Berube.  Interview with Anthony SanFilippo of PhiladelphiaFlyers.com.  Tomas Hertl trick shot, Rick Nash concussion.  6 Things We Learned This Week.  NHL News & Notes.   Interview with Joe Will, Assistant GM of the San Jose Sharks.  Rapid Fire.