Note: As voted by our readers, tonight is the second most anticipated home game of the season as the Winnipeg Jets welcome Teemu Selanne and his Anaheim Ducks to the MTS Centre for the final regular season game of his career.  The love affair between Teemu and this city is long documented and you can bet it will be another memorable affair.  Not surprisingly, there was quite a crowd waiting for the Ducks (who tweeted a photo) of fans waiting outside their hotel when Selanne and his Anaheim teammates arrived in Winnipeg at 1:30 am.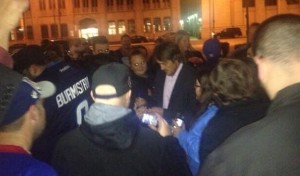 Note II: Following your Jets Papers, you can ensure you are up to speed with our game preview written by Ezra Ginsburg.  Following Ezra's preview we will have pre-game audio from the players and coach Noel.  After the game, be sure to check us out for all the post-game reaction. As soon as the site is updated we post links to the news via twitter @illegalcurve and Facebook.
Note III: For home games we have both our #ICGWG and #IC5050 contests. Make sure to @ tweet @illegalcurve with your guess. Remember that for your vote to qualify you must send in your guess using a hashtag (#). (i.e. #ICGWG Frolik & #IC5050 $40,305.00).

Jets news:
Winnipeg Free Press:  With glowing hearts.  Who knew that she teaches at my old Alma mater when she isn't performing in front of 15,004 rowdy fans.  We did a feature a few years back on what the players thought of the 'True North' chant during the anthem and they had some interesting comments.
Winnipeg Free Press:  Finnish Flash finished? Jokinen not convinced.  It is hard to believe that Selanne is now 43 years old.  It literally seems like yesterday that he was throwing his glove in the air after scoring his 53rd goal and shattering Mike Bossy's record.  Should be quite an emotional night.  Will it be a similar boo, cheer, boo for whenever the puck was touched by a Duck then Teemu then a Duck?
Winnipeg Sun:  Avoiding overconfidence while Scheifele gets more comfortable.  You get the sense that the more veteran players are trying to be measured in their comments so as to shelter the young centre from the expectations of a rabid fan base.  To his credit Scheifele hasn't looked out of place in his role as the team's 2nd line centre.

Winnipeg Sun:  Teemu Selanne's Top 5 moments.  While many of his memories were made outside of the city of Winnipeg, hockey fans in this city cheered each and every time he accomplished a new goal.  Ted outlines five of the top achievements in Selanne's career.
Winnipeg Sun:  Selanne's latest farewell tour stops in Winnipeg.  After the send off the city thought they were giving him back in 2011, I am quite curious to experience this 'final' interaction the fans at the MTS Centre will have with the man they fell for back in 1992-93.
Illegal Curve:  Coach Noel presser from MTS Centre.  Teemu Selanne talk.  What has he liked through two games?  No Enstrom on ice (day to day, maintenance.  expected to be on ice tomm).  Clitsome status (might be player in game).  Jets power play.  Power play philosophy.  Scheifele's defensive play sparks offence on 2nd line.  Talk about Scheifele's role.  Scheifele's increasing comfort level.
Illegal Curve:  Player audio from MTS Centre.  Hear from Bryan Little, Devin Setoguchi and Mark Scheifele.
IceCaps news:
The Telegram:  IceCaps down Bruins 5-1 at Mile One.  Eric O'Dell doing his best to gain the attention of the big club as he popped off three goals in the win.
Jets opposition (Anaheim Ducks) news:
ESPN:  Ducks score with 5 seconds left in OT, top Wild.  The game looked like it was going to a shootout but the Wild defence lapsed and allowed Mathieu Perreault to get in behind them and slip it five hole on Niklas Backstrom.
Illegal Curve Hockey Show Replay:

Part 1:  Jets defeat Kings 5-3 (Forwards).  Jets defeat Kings 5-3 (Defense).  Jets defeat Kings 5-3 (Goaltending and Special Teams).  Jets next game (Sunday vs. Anaheim).  Interview with Philadelphia Flyers Director of Player Personnel John Paddock.  Teemu Selanne's final game in Winnipeg.
Part 2:  The week in contract signings.  Who would you rather have? Phil Kessel edition.  Patrick Roy vs. Bruce Boudreau.  Fighting in Hockey.  NHL News & Notes.  Ezcapades, Rapid Fire, Cheers & Jeers.