Note: Tonight we kick off the Winnipeg Jets home opener as they host the L.A. Kings at the MTS Centre.
Note II: We will continue to provide comprehensive game day coverage. Following your Jets Papers, you can ensure you are up to speed with our game preview written by Ezra Ginsburg.  Following Ezra's preview we will have pre-game audio from the players and coach Noel.  After the game, be sure to check us out for all the post-game reaction. As soon as the site is updated we post the news on twitter @illegalcurve and Facebook.
Note III: With the return of hockey comes the return of IC Contests.  For home games we have both our #ICGWG and #IC5050 contests. Make sure to @ tweet @illegalcurve with your guess. Remember that for your vote to qualify you must send in your guess using a hashtag (#). (i.e. #ICGWG Frolik & #IC5050 $40,305.00).

Note IV: Tomorrow, on the Illegal Curve Hockey Show on TSN 1290 Winnipeg, we will have coverage from noon to 3 pm.  Show topics include breaking down the Jets/Kings game and previewing one of the most anticipated games of the year as Teemu Selanne makes his final appearance at the MTS Centre.
Jets news:
Winnipeg Free Press:  Hometown Blues.  Perhaps Jets fans need to turn into Raiders fans, scary and aggressive.  Is the barn too much fun?  Other teams have often said they can sometimes feed off the energy in the building.  So how can fans aid their team by making it a more hostile environment?  Maybe it is time for a uniform arena colour like the orange crush in Philly or the sea of red in Washington.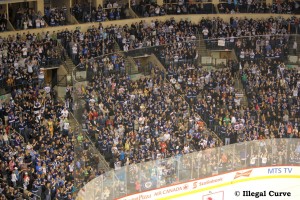 Winnipeg Free Press:  Too Friendly Manitoba.  Some facts about the Jets home record.  Will tonight be the first home opening win since a 7-5 victory over the Dallas Stars in the Jets 1.0 final season in Winnipeg?  The article also gives you five juicy home numbers, including the stat that says it is always better for a Jets victory if they are leading the game after the 1st period.
Winnipeg Free Press:  Right now, it's how they play the game.  The Jets sometimes run and gun style isn't going to fly in the tighter checking Western Conference.  You can occasionally pull off  the unexpected but the fact of the matter is coach Noel wants a team that commits to playing team defence.  That goes from the centre all the way back to the goalie.  This is what it is going to take to be a successful team in this league.
Winnipeg Sun:  Tangradi gets promotion.  We saw some flashes during the pre-season and he certainly had a good game against the Oilers.  You could tell that Noel wants both Wright and Tangradi to rise to the occasion and it certainly sounds like he will get his chance tonight against the Kings.

Winnipeg Sun:  Jets face whole different animal in L.A. Kings.  This isn't a soft team and part of the resilience was experienced by the Minnesota Wild who blew a 2-1 lead late in the 3rd and ended up losing in a SO last night in St. Paul.
ESPN: Player poll. 30 random NHLers were polled and turns out they don't like the Jets Big Buff who was voted 2nd dirtiest player in the league behind Matt Cooke of Minnesota. Of course, Cooke received 30% whereas Byfuglien garnered 7% of the votes, so while numbers suggest that he was second on list, that simply means that 2.1 NHLers out of 30 thought he merited this mention. Also of note some of the players felt realignment would help the Jets although more thought it would hurt Winnipeg's chance to make playoffs.
Illegal Curve: Josh Morrissey signed to a three-year, two-way, entry level contract. This kid is going to be a very solid addition to a strong defensive core when he finally cracks the squad. Similar to Trouba, he has a confidence about his game that was impressive during the pre-season.
Illegal Curve: Coach Noel from MTS Centre. Style of play needs to change. Challenges presented by the Kings. Playing 8 of 9 at home. Benefit of spending that much time at home. Countering enthusiasm with patience. Role of Eric Tangradi. Tangradi playing to his potential. Surprised by Tangradi's no-look pass?
Illegal Curve: Player scrums from MTS Centre. Hear from Dustin Byfuglien, Mark Stuart, Blake Wheeler and Andrew Ladd.
IceCaps news:
The Telegram:  Change will do you good.  Such is life in the AHL.  One moment your franchise can be at the top and then a few key players get the call and suddenly your team looks very, very different.  Key is ensuring sufficient depth to minimize this problem as best you can.