Note: Reminder that if any Stanley Cup Playoff games go to overtime, we will be having our #ICOTpool contest. Similar to the #ICGWG contest in that you pick one player (total) from either team and @ tweet us (@illegalcurve) with your selection as well as the hashtag #ICOTpool. Winner gets IC Gear.
Jets, prospect and World Championship news:
USA Today:  USA wins bronze meal in shootout at worlds.  Jacob Trouba becomes the lone Jets player to come away from the tournament with some hardware.  He had an assist in the US win over Finland yesterday.  He played 18:19 and had three shots in the game.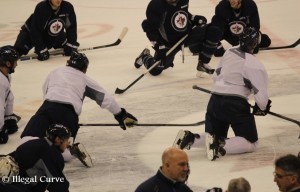 CBC:  Blades drop Mooseheads at Memorial Cup.  Jets prospect Lukas Sutter had an assist and finished a -1 in the win over Halifax.
Stanley Cup news:
Scores:  Bruins 5 Rangers 2 | Senators 2 Penguins 1 in OT
Games: Hawks @ Wings
Bruins 5 Rangers 2 (Boston leads series 2-0):
Boston Herald:  Rookies, Brad Marchand spark decisive win.  
Boston Herald:  Have no fear, Torey Krug is here!
New York Daily News:  Rangers can't make their chances count, fall in 2-0 hole.
New York Times:  Breakdowns leave Rangers reeling.
ESPN:   Marchand, Bergeron stay on same page.
Senators 2 Penguins 1 in OT (Pittsburgh leads series 2-1):
Ottawa Citizen:  Senators have life after stunning OT victory.
Ottawa Citizen:  Do fans believe in miracles?
Ottawa Sun:  Alfie provides the fireworks.
Globe and Mail:  Spezza returns and finds his karma.
Pittsburgh Post-Gazette:  Penguins power play goes dim.
Pittsburgh Post-Gazette:  It's a series again after missing chances.
Pittsburgh Tribune:  It doesn't have to be this hard.