Note: Reminder that if any Stanley Cup Playoff games go to overtime, we will be having our #ICOTpool contest. Similar to the #ICGWG contest in that you pick one player (total) from either team and @ tweet us (@illegalcurve) with your selection as well as the hashtag #ICOTpool. Winner gets IC Gear.
Jets, prospect and World Championship news:
– Ondrej Pavelec and his Czech Republic team were hardly tested in a 7-0 romp over Norway.  Pavelec only faced 11 shots in the game.
– Jacob Trouba didn't play in the loss Team USA suffered at the hands of Slovakia.
IIHF:  Quarter-finals set.  On the Finnish side, Team USA (Trouba) will battle Russia.  In Sweden, Team Canada (Ladd) faces off against Sweden and the Czech Republic (Pavelec) goes up vs. Switzerland.
TSN:  Scheifele shows promise in OHL final.  After some time off and with the focus on the playoffs, Jets fans can get focused on the next part of the season for Winnipeg.  For the next bit this will consist of negotiating with their many UFAs/RFAs and preparing for the NHL Entry Draft at the end of June.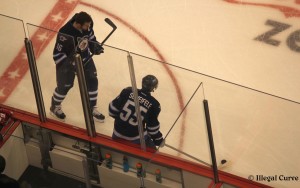 Barrie Examiner:  Colts reflect on a long season, and look forward to next year.  A tough way to go into the summer after battling all the way to Game 7 of the OHL Finals, especially when you consider they had a three games to one series lead.  Interesting to note the first real news about the Scheifele injury.  Hopefully there will be some clarification over the next few days as to what exactly kept the Jets 2011 1st Round pick out of the final game.
Stanley Cup news:
Scores:  Penguins 4 Senators 1 | Kings 2 Sharks 0
Games: Red Wings @ Blackhawks
Penguins 4 Senators 1 (Pittsburgh leads series 1-0):
Pittsburgh Post-Gazette:  Murray comes up big with five blocks.
Pittsburgh Post-Gazette:  Power play, penalty-killers combine to set stage for Penguins' 4-1 win against Ottawa.
Pittsburgh Tribune:  Malkin starting to round into form.
Ottawa Citizen:  No early ambush as Senators drop opener.
Ottawa Sun:  Captain Daniel Alfredsson expects team will make adjustments after Game 1 loss.
Kings 2 Sharks 0 (Los Angeles leads series 1-0):
L.A. Times:  Kings flex home-ice muscle in shutout of San Jose, 2-0.
L.A. Times:  This time Los Angeles Kings have a key leg to stand on vs. Sharks.
ESPN:  Kings showing their championship swagger.
San Jose Mercury News:  Sharks can't take advantage of their many opportunities.
San Jose Mercury News:   Logan Couture has mixed feelings for his friend, Drew Doughty.
NHL news:
National Post:  Stars fire head coach Glen Gulutzan as rebuilding begins.  Considering that the team was in a rebuild and they still almost made the playoffs, you would have thought he would still have a chance to keep his job.  But with new GM Jim Nill it is clear that he wants to put his stamp on this franchise.
Globe and Mail:  Leaf fans may have no joy – but they do have hope .  That was the most heartbreaking and cruel loss for Leafs Nation.  I loved seeing the passion fans had as they turned the streets of Toronto into a party scene.  They made Round 1 games seem like a Stanley Cup Finals and for that, the fans should be commended.
Globe and Mail:  Selanne won't be rushed into deciding on playing future.  While it is clear that the Finnish Flash still has plenty left in the tank he will continue his off season of debating his future that has fans across the league awaiting his answer.  One quote that should have fans excited came from the exit interviews "We have such a good team here. We know we're better than this. I think everyone feels there is some unfinished business here."