Breaking News:  Jets to unveil new logo at 4pm cst.
Winnipeg Free Press:  Turn to TSN for Jets broadcasts.  From what many fans have been saying their biggest concern is that they want the games broadcast in HD.
Winnipeg Free Press:  Unable to honour their past.   I don't think it really matters to fans of the Jets 1.0 who literally "own" the rights to the history.  In most people's mind what matters is where Hawerchuk performed his magic when winning the calder, or where Dave Ellett scored the OT goal to put the Jets up 3 games to 1 over the hated Oilers in the 1990 Smythe division semi-finals or where Teemu scored his 54th goal to eclipse Mike Bossy's record.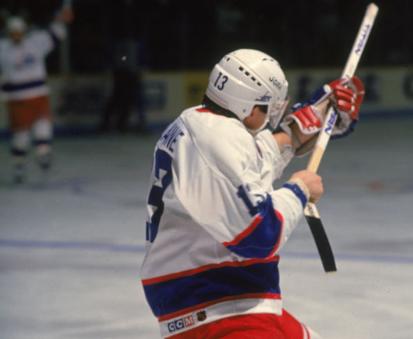 Winnipeg Sun:  Jets must honour history.  Aside from #99 (which the NHL retired league wide) and probably #66, I really don't see any numbers as sacrosanct.  Having said that, the franchise definitely needs to figure out a way to give a true, Winnipeg ceremony for our former greats.
Around the NHL:
Fox News:  Some records may be etched in stone.  Records are made to be broken but some, like Gretzky's total points and Selanne's rookie scoring record should be quite untouchable.

NESN:  Brad Marchand still in need of new deal.  He's one of those players you love to hate unless he's your teammate.
TSN:  Checketts sees Blues having new owners next season.  Fortunately for prospective owner Matthew Hulsizer, St. Louis is a lot closer to Chicago than Phoenix.
Toronto Star:  Stamkos keeps eye on hockey.  Stamkos would appear to be one of the players who should be placed in the "worth it" category.