Jets, Affiliate & local news:
Winnipeg Free Press:  Hopes of 82-game season evaporate.  Jets player rep Ron Hainsey chimes in with his thoughts about the current situation.
Winnipeg Free Press:  NBA better than nothing.  While it appears they had a decent crowd on hand last night, the reality is it is just a tease as the game fans truly wanted to be watching, appears to be nowhere close to returning to the MTS Centre.
Winnipeg Sun:  Former Moose Bolduc sinks IceCaps.  A familiar face to fans of the Manitoba Moose doomed the Caps last night and ruined the return of captain Jason Jaffray.
Reporter Herald:  Eagles' defenseman playing with So(u)l.  An in-depth look at the hulking blueliner who is down with the Eagles right now.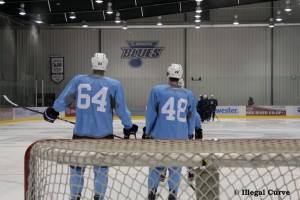 Brandon Sun:  Wheat Kings overpower Giants.  The power play powered the Wheaties to a win over the Giants in Vancouver last night.
CBA news:
CBC:  No point meeting at this point says Bettman.  Yes because heaven forbid both sides spent several hours (we're thinking 12-15 per day) at a negotiating table.  Instead you should each present a side, allow the chasm between the two proposals to grow, and then attempt to win the PR battle via the media.  Great plan.  Of course see the article below to understand the first repercussion of said actions.
Globe and Mail:  Labour dispute slams NHL's brand value.  Quick someone get out their HRR calculator.
Globe and Mail:  NHL, union talking about not talking as chance of full season evaporating.  One word; Pathetic.  That sums up the lack of negotiation between the two sides.  This tit for tat game of we will talk if they want to talk nonsense is ridiculous already.
Toronto Star:  League, union take hockey to brink.  Today is the deadline for the 82 games the NHL wanted to ensure they get in but that appears all but over as neither side is talking today.
Despite my aunt's attempts even her cookie couldn't make the lockout any sweeter:

NHL news:
Globe and Mail:  The case for NHL contraction.  Should the NHL be lean and mean?  Eric Duhatschek makes the case for why the NHL could benefit from reducing the numbers of teams in the league.
New York Times:  From Expansion to Dynasty to Disaster.  The franchise had one of the most incredible runs in the history of the NHL as they put together a string of 4 Stanley Cup championships from 1980 to 1983 and if not for the young, upstart Oilers would likely have won their 5th Cup in-a-row in 1984.
Newsday:  Many longtime Islanders fans upset.  The good news is at least they are staying in the general area although that will come as minimal solace to fans who lived in or near Nassau county.
TSN:  Yakupov to play all six games of CHL-Russia Super Series.  The Oilers 1st overall pick in 2012 has been lighting it up in the KHL and will bring his skills back to North America for the Super Series.
Columbus Dispatch:  Davidson promises success.  Fans in Ohio are going to be using his trademark "Oh Baby" if he can bring this team back to relevance in Columbus.
CFL news:
Illegal Procedure: Winnipeg Blue Bombers Papers.  If you are a fan of CFL football, check out our other site, which gives you all the latest Bombers & CFL news.  Blue head to Ivor Wynne stadium to play last game in that stadium's history and the most pivotal game of the Bomber season.