Note: As September rolls around and all this month we wanted to bring to your attention the Pass it Forward program which provides help to youth in Winnipeg who wish to play hockey but require aid in getting the necessary equipment. The program is in it's 4th year, they have a brand new website, an active twitter feed @PassItForwardca, and they are giving away a team-signed picture of last season's opening faceoff. Be sure to check it out.
Note II: Tune into the Illegal Curve Hockey Show today from noon to 3 pm as the guys have 3 hours of hockey talk on TSN Radio 1290. Guests include: Richard Stursberg, former head of CBC English Television (We will be discussing with him his experiences in negotiating with Gary Bettman, as he negotiated the most recent HNIC contract for the CBC). Sean Gordon, Globe and Mail.  Sean FitzGerald, National Post.
Jets news:
Winnipeg Free Press:  Players not rattled – Ladd.  The Jets captain is very steadfast in his position.  The players broke out the unified look at yesterday's practice wearing the NHLPA #theplayers practice jerseys.
Winnipeg Free Press:  Just gotta PLAY.  Kane becomes the first Canadian to head to the KHL.  From Vancouver to Minsk he joins former Jet Tim Stapleton on Dynamo Minsk.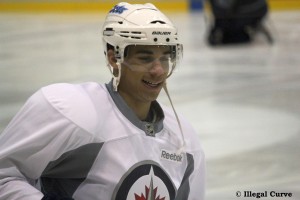 Winnipeg Sun:  Byfuglien wants a playoff run.  The one thing that could possibly blow the roof off the MTS Centre is the first playoff game in Winnipeg since 1996.
CBA news:
Globe and Mail:  NHL and players' union are talking, but not tackling big economic issues.   At least the negotiations are ongoing.  Sometimes the little steps can lead to big breaks.
USA Today:  Nash hurt in Switzerland game; Tavares joins league.  And this is the concern for teams that see their players head overseas and possibly return as damaged goods.  Cannot imagine the Rangers are very happy right now.
NHL news:
CBC:  Oilers' Daryl Katz apolgizes to Edmonton fans.  Good move.  Fans don't ever like having a gun put to their head and especially for those in Edmonton who have supported the team in such poor times, it just wasn't the right play by Katz and company.
Sarnia Observer:  Yakupov released to play in KHL.  Appears the #1 draft choice overall is getting his wish and can now legally play in the KHL.
The Hockey News: Future of Coyotes uncertain as ever.  Makes you wonder what Shane Doan was told back on September 14th to convince him otherwise.
USA Today:  Jamison close to keeping Coyotes at Jobing.com Arena.  And now an article that says the opposite of the above article.  Gonna wait until their is a signing ceremony before we believe it.
CFL Report:
Illegal Procedure: Winnipeg Blue Bombers Papers. If you are a fan of CFL football, check out our other site, which gives you all the latest Bombers news.  Huge game tonight versus the Argos.