Jets prospect news:
Jets Official Site:  A tale of two coaches.  Interesting read on how the Jets assistant coaches have gotten to their place behind the Winnipeg bench.
TSN:  Subban jumps to 10th in Button's latest draft list.  Of interest to Jets fans is the move of Swedish defender Hampus Lindholm into the 9th spot, where the Jets are currently slated to be drafting.
Barrie Examiner:  Colts edged by 67's.  Neither Ivan Telegin nor Mark Scheifele were noteworthy as the Colts blew their 3-1 series lead with a 3-2 loss to Ottawa last night.  Game 7 shifts to the Nation's capital on Tuesday night and we will see if these two can power their team to the OHL Eastern Conference Finals against the Niagara IceDogs.
Affiliate news – St. John's IceCaps:
Winnipeg Sun:  Crunch time for IceCaps.  The Jets farm team will be taking on the Ducks farm team in the 1st round of the AHL playoffs.  St. John's did not learn who their opponent would be until the last day of the season.  Now they head off to New York for two games before switching back to the Mile One Centre for games 3-5.
Illegal Curve Hockey Show Replay:
Part 1.  Recapping Friday night's games.  Previewing Saturday night's games.  Interview with Mike Colligan of TheHockeyWriters.com & Forbes.com SportsMoney (@MikeColligan).  Interview with Josh Cooper of the Tennessean (@JoshuaCooper).  LA Kings Twitter controversy.  Shea Weber non-suspension, Byron Bitz suspension.
Part 2.  Brent Sutter resigns as Coach of the Calgary Flames.  Interview with Ben Kuzma of the Vancouver Province (@BenKuzma).  Interview with Sam Carchidi of the Philadelphia Enquirer (@BroadStBull).  Series by series look ahead: PHI/PIT, NJ/FLA, DET/NSH, VAN/LA.  Series by series look ahead: OTT/NYR, BOS/WSH, CHI/PHX, STL/SJ.  Joined by Drew Mindell live from Kentucky, Rapid Fire, Cheers & Jeers.
Stanley Cup news:
Globe and Mail:  Kings push Canucks to brink of elimination.  There are going to be a lot of fantasy teams decimated if the Canucks get eliminated in the 1st round, and after last night's 1-0 loss in La La land, that is very close to becoming reality.  Adding a veteran like Kenora's Mike Richards has brought this team some much needed grit.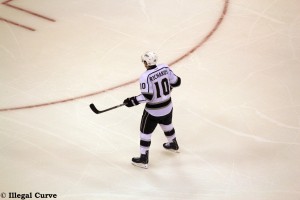 Cherry Hill Courier Post:  Crosby – "I don't like any of the Flyers".  When you are used to generic/cliche answers in the scrum, getting that type of response from the greatest player in the league is audio gold.
Toronto Star:  Five stunning days in April.  Fate has an amusing way of intervening, so I think it would be quite interesting to see the Kings and Flyers face off in the Cup Finals.  However we are still a long way away from June, with a tremendous amount of post-season hockey to be played.
Comcast Sportsnet New England:  Marchand calls for Bruins to 'step up more'.  Who would have thought that this would be the lowest scoring series in the East!
Miami Herald:  Rats fly as Panthers top Devils.  The last playoff game victory was almost 15 years ago for the franchise in south Florida, when they beat the New York Rangers 3-0 on March 17, 1997.  Not sure what jumps out at me more, the 15 years gap between playoff victories or the fact that they were playing playoff hockey in March.