Note:  With Andrew Copp and Neal Pionk inked to new deals last week just three RFAs remain for the Winnipeg Jets to get signed this summer including Patrik Laine, Kyle Connor and Eric Comrie.  Of course folks like Bob McKenzie have suggested that the big boy RFAs (across the NHL) won't be signing until AFTER the labour day long weekend so it may be a bit before there is any news regarding this topic.
Note II:  The World Junior Summer Showcase taking place in Plymouth Township, Michigan, which began this past Friday and runs until next Saturday.  The Jets have a number of prospects taking part including Finland's Ville Heinola (2019 1st rounder), Sweden's David Gustafsson (2018 2nd rounder) and Canada's Declan Chisholm (2018 5th rounder).  Heinola was hurt in the first game for Finland but according to Tony Ferrari the Jets prospect was icing his wrist and said he was OK.  However he didn't play in the second game for the Finns yesterday but his coach added that he was fine and could play again in the tournament.  Gustafsson had a goal and assist in the first game for Sweden getting the second line centre spot for his club.  Canada plays their first game on Tuesday.
Jets news:
No links.
Jets audio:
InGoal Magazine:  A chat with Jets/Moose goalie Eric Comrie.  In this episode presented by the Hockey Shop Source for Sports we sit down with Winnipeg Jets / Manitoba Moose goaltender Eric Comrie. He may not be as well-known as some of our big guests like Carey Price and Martin Brodeur – but he was every bit as engaging and interesting a guest as we have had on the show. From an almost unbelievable amount of work he did to become a pro to an open and honest discussion of how he feels on the ice, this interview will leave you wanting more – we certainly can't wait for the next opportunity.
Illegal Curve Hockey Show Replay:
Topics: Andrew Copp's two year contract ($2.28 million AAV), Neal Pionk's contract and his role on the Jets next year, Updated Jets salary cap situation, Open phones in the second hour
Guests: Murat Ates (The Athletic Winnipeg) at 27:52, Jeremy Rutherford (The Athletic St.Louis) at 51:09.
To listen click here.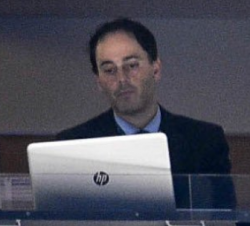 Latest posts by David Minuk (see all)