Note:  The Jets picked up a big two points last night courtesy of their 4-3 regulation win over the Bruins in the second game of this three game homestand.  They close things out with another tough opponent in the Calgary Flames on Saturday night.  Today they are scheduled to practice at 12 noon.  Stay tuned to the Practice Report for the latest news and audio.
Note II:   The Moose play perhaps the most important game of the season (to date) as they look to catch the team they will be playing (Texas) who hold the 4th and final playoff spot in the Central.  Manitoba does have games in hand (2) but when you have a chance to catch an opponent you need to seize it.  With the way they are playing at home (15-1-0-1 in last 17 at Bell MTS Place) they will have a good chance to keep that roll alive.  Puck drop at 7 pm.
Note III:  The Jets announced this morning that prospect Kristian Vesalainen has been reassigned to the Moose after a stint in the KHL.  For more click here.
Jets news:
Winnipeg Sun:   Scheifele stands tall in Jets win.  Ken recaps the action.
Winnipeg Sun:  Wheeler, Marchand have come a long way.  Say what you want about the Bruins star forward but if he is on your team you love him.  
Winnipeg Free Press:  Spirited Jets tame big, bad Bruins.  (Paywall).  It was a game that both teams wanted to win as they came into the contest having both lost their previous two games.  Jason recaps the action from his perspective inside Bell MTS Place.
Winnipeg Free Press:  Randy Turner remembered with moment of silence before Jets game.  (Paywall).  It was a really nice comments about the well respected Manitoban who was taken too soon.  His wit on twitter and his excellent writing will be missed.
Winnipeg Free Press:  Wheeler, Marchand admire each other's game.  (Paywall).  Lots of mutual admiration between these two former teammates.
Sportsnet:  Patrik Laine's overall game improving at right time for Jets.  Diversification of his game is certainly  leading to new opportunities for the Jets sniper turned passer extraordinaire.
CBC: Scheifele has 3 points as Jets hand Bruins 3rd straight loss.  It was a solid game for the Jets top line.
Boston Herald:  Bruins falter in Winnipeg for third straight loss.  Read about the game from the perspective of a writer who covers the Jets opposition. 
Jets video:
TSN: Laine finding his game at the perfect time. He might not be scoring as much as he'd like to be, but Craig Button explains how Patrik Laine is using his vision to setup some pretty nice goals and he's starting to breakout from his winter slumber at the perfect time.
TSN: Chara fires Scheifele's stick over the glass.  In the first period between the Bruins and Jets, Zdeno Chara gets under Mark Scheifele's stick and hoists it into the air and over the glass.  Fact that 55 scored on that same shift is rather humourous.  
City News Winnipeg:  Jets go green on home ice.  On average 100 pounds of cardboard, 2,000 pounds of food waste, and 200,000 litres of oil are diverted from landfill each year here at the arena. Mark Neufeld reports.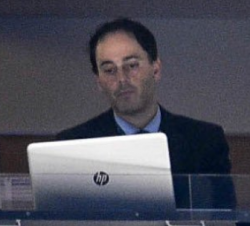 Working hard on a daily basis to provide the latest Winnipeg Jets and Manitoba Moose news for our readers and listeners.

I also appear on the Illegal Curve Hockey Show every Saturday on TSN 1290 Winnipeg starting at 9 am.

And I occasionally jump in the play-by-play booth at Bell MTS Place to provide colour analysis during Manitoba Moose games.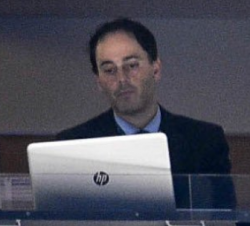 Latest posts by David Minuk (see all)